11 August 2017
|
Feature Article
But Dr. Obed Asamoah, You Are A Pathetic Crook!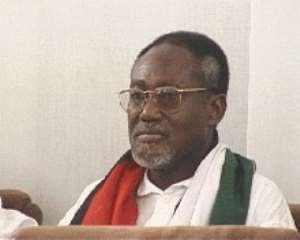 Dr. Obed Asamoah, the Rawlings-made "longest-serving" Attorney-General and Minister of Justice, is dead-on-target when he says that Chairman Jerry John Rawlings thinks and believes that "Everybody is a crook and [only] he is a Saint" (See "I Congratulated Valerie Sawyer[sic] for Criticizing Rawlings – Obed Asamoah" MyJoyOnline.com / Ghanaweb.com 8/9/11). But, of course, what none of his critics, predictably, can be expected to say is the fact of whether any of them is, in fact, any more morally upright than the man who literally hijacked the Ghanaian ship-of-state and made it possible for them to become who they are today in the annals of the country's postcolonial history and politics. Indeed, about the only figure among the National Democratic Congress' hoodlum pack who has risen above the jaded ashen mold of Chairman Rawlings tutelage, is our so-called Citizen Vigilante, namely, Mr. Martin Amidu, one of the shortest-serving Attorneys-General and Ministers of Justice.
You may call Mr. Amidu the ideological spitting image of the founding-father – some say the veritable architect – of the main opposition National Democratic Congress (NDC). Our vigilante protagonist is himself not averse to claiming this much. To be certain, he would be the first to tell you that he is the "revolutionary avatar" or reincarnated ideological soul-mate, or spiritual heir, of the decidedly jaded and much-discredited but still politically relevant Chairman Rawlings. For my part, I could care less about his seemingly strait-jacket alignment with the most extortionate Ghanaian junta leader. Like his chief patron and sometime sponsor, Mr. Amidu has fast become a formidable force on the national political scene; I should actually say, a formidable moral force for change, though, on the latter score, also, some of his most vitriolic and ardent critics may express their own self-serving misgivings.
You may not like the man, but you also cannot gainsay the fact that presently, when one talks about legal and moral crusading, Mr. Amidu is virtually in a class all by himself. He is the lone figure that appears to have comfortably emerged from the apocalyptic ashes that is the Rawlings Revolution. This may precisely be the reason why his fellow vanguard truckers of the National Democratic Congress so virulently appear to literally hate his guts.
When "Mahama Girl," Dr. Valerie Sawyerr decided to misguidedly have a go at Mr. Amidu, the clinically uncouth former Mahama Chief-of-Staff-Second-Bananas woefully forgot that a remarkable number of us were old enough to remember the fact that then-Attorney-General Martin Amidu was expressly expelled from the Atta-Mills cabinet, not because Mr. Amidu was "pompous" or had a "bloated" sense of self-importance. Dr. Sawyerractually uses the patently tautological albeit very embarrassingly Ghanaian expression of "over-bloated."
Rather, Attorney-General Amidu was expelled primarily because having hugely profited from the infamous Woyome Mega-Heist, then-President John Evans Atta-Mills, deceased, was hell-bent on riding roughshod over the sacred laws of the land against the better judgment of his own State Chief Attorney. That was what the firing of our Citizen Vigilante was about. Mr. Amidu righteously wanted Mr. Alfred AgbesiWoyome to return his loot to its original and real owners. His much-touted peacefulness and all, one thing that cannot be ignored about Ghana's first Fourth-Republican President to die in office is that President Atta-Mills was a thoroughgoing political scam-artist like all the rest of the NDC hoodlum pack. I make absolutely no exceptions here.
I also remember when Dr. Obed Asamoah, then-Chairman of the then-ruling National Democratic Congress, and some two or three other fellow party truckers, including the late Prof. Kofi NyidevuAwoonor, hid at least some $30,000, each, of public dole under their beds and claimed the same to have mysteriously been squirreled away by their houseboys or servants. Of course, Chairman Rawlings also has his own long-hidden Abachagate Scam and "some good friends sponsored our children's college education abroad" shenanigans to deal with in perpetuity. The preceding notwithstanding, isn't Chairman Rawlings still relatively saintly enough to have been able to, literally, lead you, Dr. Obed Asamoah, by the nose and stomach for some 20 long years?! And so, really, what is the use of "congratulating" Ms. Sawyerr for so shamelessly exposing her armyworms-infested and period-soiled undies in our public square?
*Visit my blog at: kwameokoampaahoofe.wordpress.com Ghanaffairs