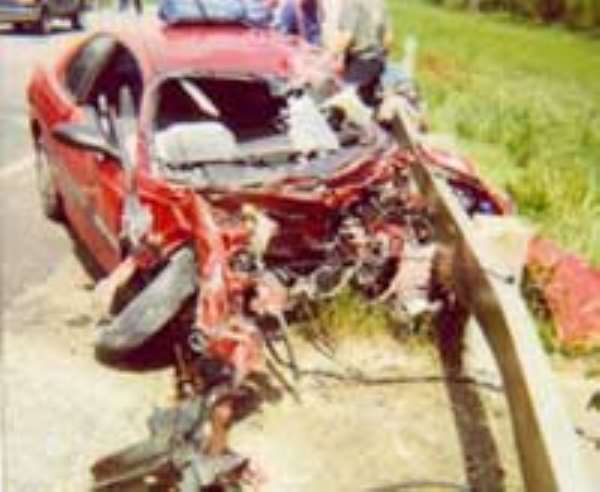 Takoradi, May 30, GNA - Fifty-two people lost their lives in motor accidents between January and March this year in the Western Region. Four hundred and thirty-one vehicles were involved in accidents in the Region between the same period with 619 sustaining various degrees of injuries, making the Region the third on a list of the ten regions, where people were killed through motor accidents during the period.
The Central Region topped the list with 71 deaths from 367 accidents in which 486 people were injured, while Ashanti Region came next with 69 deaths in accidents involving 939 vehicle injuring 717 people.
Mr Thomas Bismarck Boakye, Coordinator of the National Road Safety Commission for Western and Central regions made this known when he briefed the media on the road safety situation in the two regions on Monday.
Referring to the road safety situation in 2004, he said the Western Region recorded one of the lowest numbers of accidents ranking eighth among the ten regions.
He did not, however, elaborate, but said the situation might be different this year, taking into consideration the high accident rate with the first quarter of the year.
Mr Boakye appealed to stakeholders, particularly the media and the security agencies to intensify their efforts to reduce road accidents. He said the NRSC had evolved sensitisation programmes including talks, seminars and other public forums aimed at bringing the number of motor accidents in the two regions to the barest minimum.
Internationally, Ghana ranks high in the practice to improve road safety, Mr Boakye observed and urged the public and motorist to help to maintain the image by observing traffic signs and regulations to avoid accidents.
On a recent incident in which armed robbers snatched a Toyota Hilux Pickup with registration number GE 5991 V from him, the NRSC Coordinator appealed to the security agencies to help to recover the vehicle. Mr Boakye said he was attending a seminar on Law Enforcement and the new Traffic Act in Kumasi on May 13, this year, when a group of armed robbers firing warning shots seized the vehicle and his mobile phone at a hotel.