15 June 2017
|
Diaspora (UK & Ireland)
Massive Demo To Greet Akufo-Addo Visit To The UK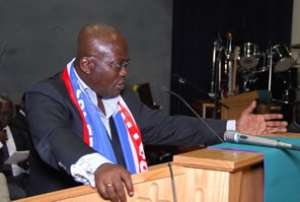 Ghanaians in London, UK will this Friday 16th June 2017 register their displeasure with a massive demonstration against President Nana Akufo-Addo for the poor handling of the economy, social and among others security issues in the country.
There are plans to greet the President, who is visiting the UK, with a huge protest.
Ghanaian Civil society groups in the UK are also expected to part take in this demonstration.
Come out in your numbers to register your displeasure.
Ghana must not be allowed to sink into lawlessness and insecurity any more.
In unity we build a stronger nation. Be part of this concern. This is not about politics but reality facing our country. Let us face President Nana Akufo Addo as citizens not spectators.
Venue: Central Hall, Westminster, Storey's Gate, London, SW1H 9NH
Time: 17:00
Come and let us engage the President. Ghana our mother land you are the Victor. God bless our Homeland Ghana.