The Real Killers Of Major Mahama May Still Be At Large, After All
Opinion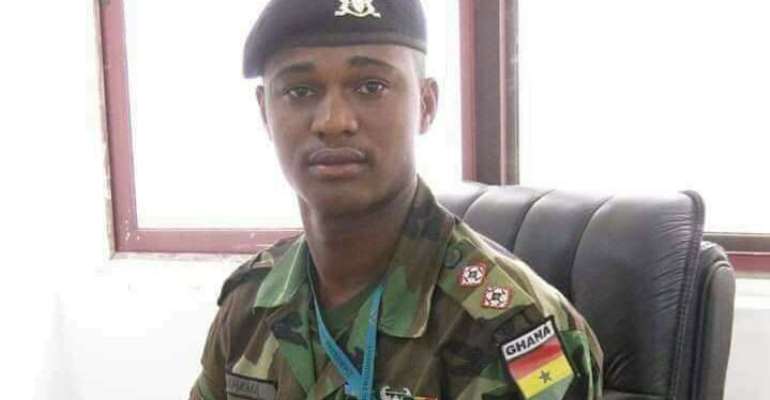 All along, we were given to believe that the real killer, or killers, of Major Maxwell Adam Mahama had been safely put under lock and key. Now, we are being told that the alleged prime suspect, Mr. Yaw Amankwa (aka Bulla), may, after all, still be on the lam (See "Late Major's Widow to Face CID Interrogators" MyNewsGh.com / Ghanaweb.com 6/13/17).
I did not expect it to be any less easy to apprehend the man alleged to have delivered the bullets that felled the victim, who was then, reportedly, set upon by the lynch-mob at Dekyira-Obuasi, in the Central Region. As already extensively written about and officially established, the slain soldier, who served with the 5th Battalion of Infantry of the Ghana Armed Forces, had been dispatched as the commander of a detachment of military personnel whose objective or missionary detail was to facilitate the immediate cessation of Galamsey, or illegal mining, activities that had caused the massive pollution of about 60-percent of the country's water bodies and the wanton destruction of its lands and forestry resources.
In a practical sense of the bad policies of the previous John Dramani Mahama-led government of the National Democratic Congress (NDC), it clearly appears that the late Major Mahama was tragically caught in the crossfire of the flagrant decision by the regime of his own uncle to use the country's security agencies to facilitate the criminal activities of foreign Galamsey predators, largely of Chinese and Slavic origins. It is thus a tragic irony of "suicidal" proportions. It is equally ironic that key NDC operatives like Mr. Johnson Asiedu-Nketia, the longtime General-Secretary of the country's main-opposition party, have unconscionably attempted to score cheap political points from a death that clearly appears to have been at least indirectly caused by the National Democratic Congress.
But what brings me to this article is the report that Major Mahama's widow, Mrs. Barbara Mahama, in her tribute to her late husband last Friday, June 9, on the foregrounds of the State House, made several statements regarding some interactive timelines, by way of telephone conversations with her husband, just hours before his brutal mob-lynching, that do not gibe with accounts given by police and military investigators. But that it has taken at least one concerned commentator (See Kwasi Akuffo's "Major Mahama's Murder; His Wife's Account and the Varied Reports Given. Who Do You Believe?" Modernghana.com 6/12/17), to bring the attention of police investigators to the several divergent narrative accounts, and the imperative need to hear from Mrs. Barbara Mahama, may yet be another serious sign of the amateurish and gross incompetence of our police and military investigators.
One begins to wonder whether those arrested, charged and arraigned as prime suspects to the crime are not merely easy scapegoats captured by mobile-phone videos by some Good Samaritans. One also begins to wonder whether, indeed, Mr. Yaw Amankwa (aka Bulla) is the real killer of Major Mahama that Ghanaians and the global community are being made to believe. One also wonders what might have happened, if the alleged prime suspect had been caught in the immediate wake of Major Mahama's death at Denkyira-Obuasi.
You see, those of our emotionally driven self-righteous citizens calling for the meting of swift "justice" to the alleged suspects may be in for a rude awakening. Seeing is not always believing, as some would have the rest of us believe.
*Visit my blog at: kwameokoampaahoofe.wordpress.com Ghanaffairs
By Kwame Okoampa-Ahoofe, Jr., Ph.D.
English Department, SUNY-Nassau
Garden City, New York
June 13, 2017
E-mail: [email protected]