Opinion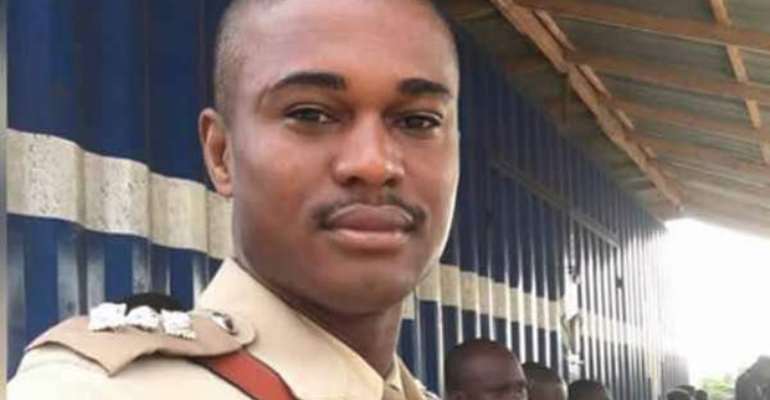 Nothing will take my mind away from a young nice looking man in military uniform taking this space, no matter how hard I tried. It wasn't supposed to be my beef. But I couldn't avoid making it my beef. Can you believe his wife was our student barely a year ago? Many in our school knew him. I knew the wife as our student and I saw one of their children. I never saw the captain.
Yet everywhere I turn now, he's there, as he should be. On radio, on television, online, everywhere. One of my nurses called, "Nana, do you know the man was my brother's military academy classmate?" It's confounding; sad, perhaps the saddest event in the Fourth Republic. How it could have happened where it happened and when it happened seems to beat all the imagination of compatriots' whose predispositions are in tune with mine regarding that regrettable incident.
We must soul search very hard for the answers we must know and most probably do know but which for our own shameful pretences clouds them from our knowing. The collective is always safer if it would work hard or, even not so hard when answers are easy to find, to develop solutions that prevent despicable events from happening. That should have been the case with the Captain Maxwell Adam Mahama terrible situation.
It is the search in grief. We all want answers to how in the 21st century, a mob would resort to that action without pausing one second, just one second, to verify the man's plea that he was a soldier on national duty and not an armed robber. How could the majority have ignored the honesty of a humble son of the land, someone working to free us all from the galamsey scourge? Why they couldn't and wouldn't tell what we are that we think we are not.
Before I go any further, and before I forget, let me appeal to all media houses and anyone who has anything to do with multiplying words: spoken, written, signed, to educate my compatriots (illiterate, not-so-literate, neo-literate and literate) that every action, good, bad and ugly, these days, gets recorded and that if you participate in mob action you will be caught and dealt with accordingly.
It is a massive indictment on state institutions who could have acted to prevent that dastardly mishap. For one, the NCCE cannot escape the blame on any and every score. This is probably the most unthinkable
unimaginable vigilantism that could happen in reality. But things of lesser scale have been happening. I have not seen, read, heard anywhere the NCCE is mounting a campaign to check it.
The media seem to be doing their part. They are blowing and multiplying the horror all over. The sensationalism is there too; maybe to some extent justifiable especially if they can show it deepens the sense of outrage among citizens to vow it will never happen again.
Blame me if you disagree. However, if you think this should be the last most abhorrent vigilantism, that is it should be stopped and never made to happen again, we should revisit the so-called revolutionary "we no go sit down" rabble rousing. Coming close to an assemblyman leading Somanya police vehicle burning charge, we should match the assemblyman's role as a development agent to that of the assemblyman rogue.
There's a lot of the latter around. As someone involved in grassroots governance, I have experienced and encountered assemblymen, and even unit committee chairmen, arrogating to themselves powers they do not have to wreak misery on citizens. The concept might have been designed to positively affect people's lives. That notwithstanding, as it is with all human designs, it needs to be closely studied for its pitfalls.
Those entrusted or who find themselves in those roles must be educated and trained to be of service and offer service to improve the conditions of citizens. It should not happen that an assemblyman would see himself as being more protective of citizens than a soldier on national assignment to prevent the evil of galamsey. The two are supposed to work together. It actually looks like a highly ignorant assemblyman who didn't know soldiers' presence in his area since the troops were not hidden.
If I were the assemblyman's chief, I would immortalise Captain Mahama. I would create some perpetual physical symbol for him to remind the people at all times and in full memory that his has been the supreme sacrifice. I am sure someone somewhere with the wherewithal, not just money but the authority, to do something to keep reminding us all of the day of our collective shame. We are all shamed and shame us all. In the name of Captain Maxwell Adam Mahama, shame us all.