Chief In Trouble Over Land Deals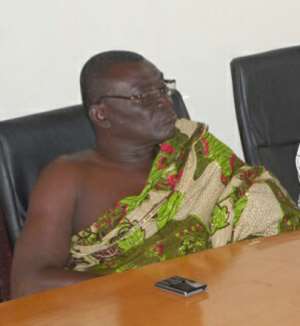 Nii Ayikai III
A circuit court in Accra last Wednesday remanded Nii Ayikai III of Akanmajen Divisional Stool of the Ga Traditional Council for allegedly engaging in double sale of land.
However, in a bizarre twist, his lawyers brought him back to court and reportedly secured him bail on the same day he was remanded – at the blind side of the complainants and the prosecution.
Per the original remand warrant, the chief was supposed to re-appear in court today, having been charged with one count of fraudulent transaction contrary to Section 34 (c) of the Land Registry Act 122/62.
In the particulars of offence, the charge sheet states that between 2012 and 2016 at Abossey Okai in Accra, the chief allegedly "with intent to defraud, did sell the same parcel of land to Naa Korkoi Dugbatey and Johnson Quarshie and obtained payment from both victims respectively."
The facts as read by Detective Chief Inspector Ofori-Amanfo, are that the family of the complainants had a communal house at Abossey Okai and the land on which the house was built was leased to the family of the complainant on January 28, 1928 by then Chief Nii Abossey Okai of Akumajay Stool.
According to the prosecution, sometime in 2012, Nii Ayikai III sold the land together with the house to one Johnson Quarshie and in an attempt to secure the land for the buyer, he (Nii Ayikai III) reportedly pulled down the house on the basis that he had a court judgement against one David Nortey.
"The accused person after the demolition realized that the complainant being a colleague traditional ruler, had interest in the house," the prosecution averred, adding, "He however, made false representation to the complainant that he has sold the land to Johnson Quarshie for GH¢80,000 and that he could regularize the land for the complainant, provided she could pay the GH¢80,000 to him to be given to Johnson Quarshie.
"To avoid litigation, the complainant paid the GH¢80,000 to the accused person and the accused accordingly regularized the lease for her."
The prosecution said in the process, Johnson Quarshie came forward to "resist the complainant from further development of the land."
The prosecutor told the court that investigation established that Nii Ayikai III had sold the land to both the complainant and Johnson Quarshie and obtained payments from the two personalities.
By William Yaw Owusu