"We Will Support GES To Reduce Teenage Pregnancies In Our Schools...Agona East DCE
News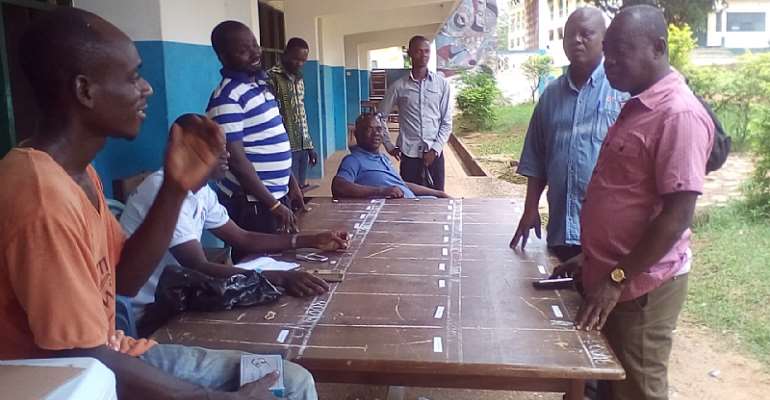 The Agona East District Chief Executive, Hon. Dennis Armah Frempong says the Assembly was going to collaborate with Ghana Education Service (GES) to reduce the rather high level of teenage pregnancies associated with girls of school going age in the district.
According to the DCE, he has observed with concern the rate in which teenage pregnancies was affecting educational standard in the vicinity.
Hon. Dennis Armah Frempong stated these when he visited the just ended BECE centers in the Agona East district of the Central Region to observe events.
The DCE was shocked to learn that 13 out the 1,983 comprising 973 boys and 1,010 girls writing the exams were pregnant. He also saw a nursing mother among the candidates writing the exams at one of the 6 examination centers.
The Agona East District Director of the Ghana Education Service, Mr. Samuel Kwabena Arhin disclosed that the pregnant candidates were from schools in rural communities noting that extensive reproductive education would be carried out in those schools.
The District Director stated that based on the high rates of pregnancies in school, the Directorate has tasked the Girl-Child Coordinator to form social clubs in all the schools to enhance peer education especially on sex education and dangers associated with teenage pregnancies to curtain the canker.
Hon. Dennis Armah Frempong hinted that the Agona East District Assembly would support G.E.S in the fight against teenage pregnancies.
" The Assembly will give financial and logistics support for this fight because it's becoming too worrisome. I remember has year we recorded less than 5 pregnancies at the BECE centers. I don't know why the number has risen to 13 this time.
I have encouraged these and other students who would be writing entrance examination into Senior High Schools to take advantage of the Free SHS to take their studies seriously to enable them enjoy the policy.
Agona East District has enough schools to admit students who make the required grade for admission. Additionaly, I have assured the people that the 30% quota admission for natives from the district would be fully implemented in September, 2017.
"The 30% quota would be reserved to admit them provided they made the grade. It would not be on silver platter. Agona Nsaba, Swesco, Agona Kwanyarko and Namanwura Senior High Schools are ready for the Free SHS policy."
The DCE commended examination officials, invigilators and the candidates for a successful examination expressing the hope better results would be recorded to enhance the image of the district in the educational ladder.