Hospital gets GHC200,000.00 Hostel
News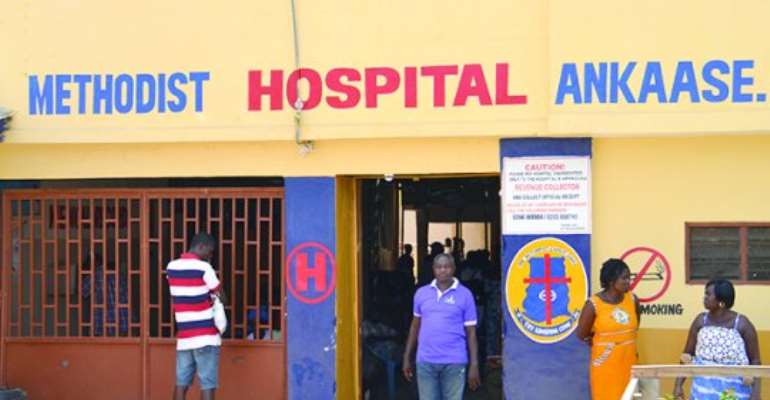 Ankaase, (Ash), June 7, GNA - A GHC200,000.00 hostel built at the Ankaase Methodist Faith Hospital, the only referral facility in the Afigya-Kwabre District, to provide decent accommodation for medical personnel, has been inaugurated at a ceremony.
It would house visiting doctors, nurses and students on exchange programmes and those doing housemanship.
The project was constructed with mixed funding - the hospital's own internally generated revenue, support from the Methodist Church and foreign partners of the facility - Surgeon Nooman Society, TMS Global and Dr. and Mrs. Cameron Conywer.
The Right Reverend Christopher Nyarko Andam, Methodist Bishop of Kumasi, who was on hand to perform the ceremony, underlined the church's determination to forge stronger partnership with the state to bring development to the people.
He said it believed in holistic ministry - the total transformation not only of the spiritual but the social, economic and cultural lives of the people.
It was for this reason that it had been engaged in the establishment of schools, hospitals and provision of water and sanitation facilities, especially in difficult-to-reach communities.
He added that the diocesan church was currently operating nine health facilities including the one at Ankaase.
He called for the people to give their backing to development projects initiated by the church to improve their living conditions.
The Bishop thanked the chiefs and people of the area for making land available for the expansion of the hospital.
Madam Anna Ofori, Afigya-Kwabre, District Director of Health Services, said the hospital's exchange programme with foreign partners was significantly helping to promote healthcare delivery.
Additionally, this was assisting to sharpen the skills and expertise of the local doctors and nurses.
She applauded the management and staff of the facility for the hard work, commitment and dedication in the face of challenges.
Mr. Joseph Atta Amankwaa, Chief Executive Officer of the Hospital, complained about the bad nature of roads in the area and said this was making it difficult to promptly respond to emergencies.
He therefore appealed to the government to act quickly to repair the Hemang Junction-Ankaase road.
GNA
By Kwabia Owusu-Mensah GNA