Ohenenana's Weekly Letter To The President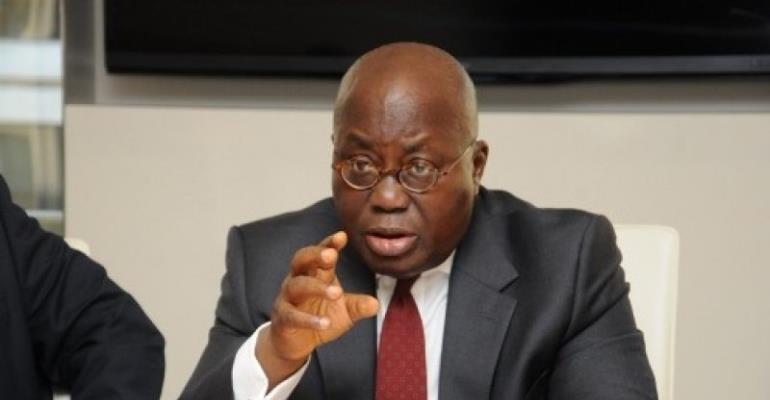 Greetings Mr President (Senior),
As promised, I will write you a personal letter every week as part of my contribution to development of our democracy and in conformity to your appeal to Ghanaians not to be spectators. Naturally, it should be my automatic responsibility to do this despite our ideological differences.
Senior, the governance system we operate now is sharply the opposite of a dictatorship as existed some years ago and as being practiced in some countries on the continent where leaders have established themselves by intimidation and force ,have chosen their own henchmen,created their own secret police ,and after first phase of their power, abandon all pretence of consulting the wishes of their people ,except to obtain from them a regimented "Yes" on certain gala occasions.
I have never doubted your credentials when it comes to fighting against human right abuses despite my little reservations because of certain happenings which took place under your watch prior to the 2016 elections.The emergence of these vigilante groups is gradually painting your person and government black locally, and on the global stage something you must quickly fight back to cure before your administration is consumed by it.I am herein appealing to you to immediately ban these groups and apply fully provisions in our books which make such operations illegal. You will definitely step on toes when you take this bold decision, the extremists on your side,the hawks and vague noise makers will start breathing heavily on your neck but you must know that you are the best person to protect your image and legacies.
These groups offer support to our parties during their campaigns etc,but past events in the subregion should always guide our actions when dealing with these groups.The problem will become sophisticated when learned people join the fray and the case of Isaac Adaka Boro the notorious students leader in Nigeria who left the police to form a militia group and established a sovereign Ijaw nation he named Niger Delta Peoples Republic, the Egbesu boys for Africa, movement for the survival of the ogboni people, the Foday Sankoh group and currently, the bokom Haram group, should be enough examples to remind all of us that partially legitimising operations of these groups in our body politic is dangerous.
Mr President, your father's government under Prime Minister Busia among other reasons suffered collateral damage from the implementation of the Aliens Compliance Order the its abuses.Miscreants in the party took advantage of the ORDER to unleash brutalities on innocent citizens,seized houses,farms,shops etc.I foresee same abuses going forward if left unchecked. I will one day produce documents to show the world your father's position and that of one Gen Otu from Adukrom on this particular issue.
The other point noteworthy,is how various interest groups and business groups which included Syrians,Lebanese etc,exerted pressure on your father's government leading to the implementation of the aliens compliance order and other reckless decisions leading to the problems it encountered and finally, the coup.You are facing same critical problems but just like your father, your power of oratory and command over diction put you in a very comfortable position when it comes to justifying such actions.
Mr President, I know very well that you aren't the type who will succumb to flattering posts on social media and face saving arguments on radio,you are too experienced a politician for people who crave for your attention to dazzle you with their immature defences and analogies and pray you forever watch activities of such characters and place them in the dustbin they are fit for.Your description of President Mahama in your speech read by yourself after your inauguration and I quote👇🏻👇🏻👇🏻👇🏻👇🏻👇🏻👇🏻👇🏻👇🏻👇🏻👇🏻👇🏻👇🏻
"I have, at the outset, to thank sincerely our departing President, His Excellency John Dramani Mahama, for his service to our nation. He stepped into the breach of national leadership at a delicate moment in the country's history, with the death in office, for the first time, of a sitting president, the late Prof. John Evans Atta Mills. He has since steered the ship of state with conviction. His elegant, dignified acceptance of the verdict of the people on 7th December, 2016, will, without doubt, receive the approval of history, for it has contributed significantly to the process of democratic consolidation in Ghana. I wish him and his family well."
Is going to be the yardstick by which society will measure you after your tenure and I pray you adhere strictly to the tenets you preached for years on BBC and other media platforms. You can however achieve same fit if you are able to clear from your stables grovellers and the usual fair weather friends who will torment your administration because of contributions they made to your campaign. Ghanaians have become very sophisticated when it comes political issues and analysing performance,they will listen to your powerful and clever political speeches and platitudes but will pass their true judgement when the get to the ballot box.
The grumbling and massive agitations hitting your administration few months into office must tell you the true state of the nation, the usual goodwill praises and songs will distort the genuine cries and outbursts but that is the danger most politicians pretentiously ignore at the peril of their own survival.
Mr President,you are referred to as "The Law" by some of your close associates and I am unworthy to scrutinize your capabilities when it comes to legal mattes but let me respectfully remind you of this principle by van den Haag
"The law peremptorily forbids some acts individuals might choose,regardless of whether they are motivated by a moral impulse or anything else.If the law were not binding on all its subjects,regardless of the conscience of each,it would be an option and,therefore, not law.To claim the right to choose among laws and to disobey those one's conscience opposes is to deny the binding character of penal law"
I hope this is not the situation we inviting into our corridor. What the Delta Force did at the court,the beating of the police officer right inside the Presidency vis-à-vis responses coming from people known to be close associate of the President is worrying. For these thugs who can best be described as militiamen to defy your orders few days after issuing it right at the Manhyia Palace,should tell you where the ship will dock finally if something is not done immediately.
Definitely after your tenure in 2020 you shall have people in your own party which will express reservations about your rule,others will get at you with all kinds of "missiles" and will use some of these groups and fringes to unleash their venom. Your worst enemy could be your best friend by Bob Marley is enough a message to guide you.
Let me leave you to ponder over other pertinent issues.Saying goodbye,let me quickly dash out this one senior. This car seizure agenda embarked upon by your task force must be regulated. Be assertive on this issue too else, you create unnecessary tension in the system. This payback agenda shouldn't be allowed to thrive.Let's use the laid down principles and treat our political opponents with dignity and circumspection.
Thank You
Ohenenana Krow