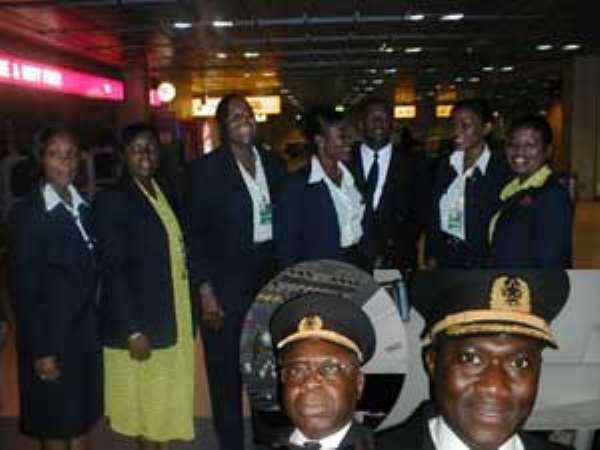 ..No worker paid since December The fate of workers of Ghana Airways hangs in the balance as debate rages ensues over whether or not GIA has the capacity to run the airline.
The Company, which is expected to replace the national carrier, has started its own recruitment exercise, independent of Ghana Airways.
That effectively eliminates the possibility of transferring workers from the national carrier to the new company to be formed by the GIA.
With negotiations for end of services benefits stalled and no clear message as to whether the airline has closed down, workers of Ghana Airways say they are uncertain about the future.
Chairman of the Senior Staff Association Roland Mossori says the workers have not received salaries since December.
"From December till now no worker has been paid. Negotiations for severance package for Ghana Airways workers has thwarted, in fact the meeting has been suspended because of the transition that took place after the elections," he says.
Mr. Mossori says the ministry of roads and transport and the task force supposed to manage the transition of Ghana Airways has given workers all kinds of assurances as at last year and from the beginning of this year.
According to him no concrete or fruitful results have come out of the assurances that government is prepared to pay their salaries.
He says majority of Ghana Airways workers still come to work because there are other categories of workers who were originally operating all the foreign airlines and other airlines that operate in West Africa.
" I think I will have to make this point very clear, the political people have indicated that GIA has nothing to do with Ghana Airways, they say it is a separate entity and not in partnership with GIA. Even GIA officials are occupying the offices of former Chief Executive of Ghana Airways bungalows and Ghana Airways Company is still paying for all the utility bills, he says.
He says the GIA is also occupying the offices of Ghana Airways.
"We are actually lost as to whether GIA is taking over Ghana Airways," Mr. Mossori says.
Asked if they will resort to legal action in the face of the treatment meted out to them by government, the chairman says, " We know that this government can be a very sensitive government and listen to the voice of the people, after all we are all Ghanaians and we want an improvement of everything that goes on in this country".