Equatorial Guinea President Invests In Ghana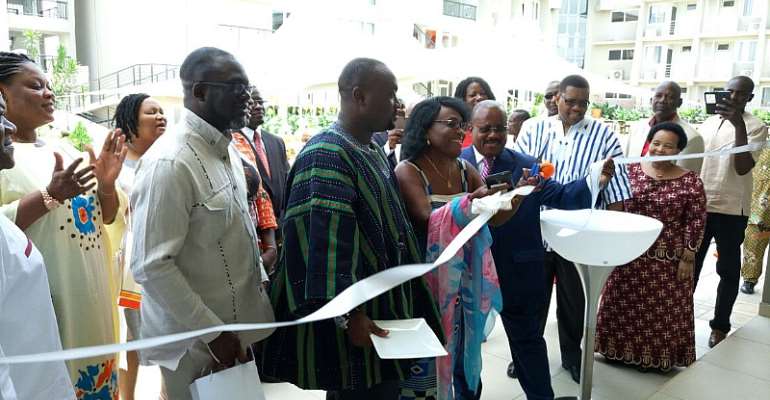 Esther Dzifa Ofori, Ambassador designate to Equatorial Guinea, and other members of the diplomatic corps assisting Jesus Mba Bela Abaha,  to cut the tape to open the ISGC restaurant at the weekend. Looking on (in smock) is Julian Adomako Gyimah  
The President of Equatorial Guinea Obiang Nguema Mbasongo has set an enviable record in Ghana by building a $100 million ultramodern learning and hospitality facility at Teiman-Abokobi in the Adentan Municipality of the Greater Accra Region.
Known as the International Students Guest House (ISGC), the facility, which is 30 minutes drive from the Kotoka International Airport (KIA), is the first of its kind in West Africa and provides serene environment for international and local academia, business, corporate and individual guests.
Jesus Mba Bela Abaha, Equatorial Guinea's Ambassador to Ghana, in an address, said the 168-capacity building, which has a cinema that doubles as a conference auditorium, basketball court, tennis court, swimming pool, an outdoor event area, industrial cafeteria, large kitchen facility with solar energy as an alternative source of energy, was built and financed entirely by President Mbasongo.
Noting that the project was within the framework of further strengthening Equatorial Guinea-Ghana relations, Ambassador Abaha revealed that ISGC was open to the general public for events and use at affordable rates.
President Mabasongo inaugurated the facility on 7th January, 2017 when he attended the swearing-in ceremony of President Nana Addo Dankwa Akufo-Addo.
Julian Adomako Gyimah, Executive Director of ISGC, said with 40 percent of the facility's staff being locals, it offers the most serene learning and hospitality environment.
It has been named after Jose Maria Nsue Ndjie, an Equatorial Guinean student, who died in Ghana while pursuing his education.
ISGC is also equipped with two state-of-the-art tourist buses, a 12-seater bus and saloon cars, among others, to serve various needs of the clients.
[email protected]
By Samuel Boadi