NPP's Delta, Invincible Forces on collision course over Akufo-Addo's appointment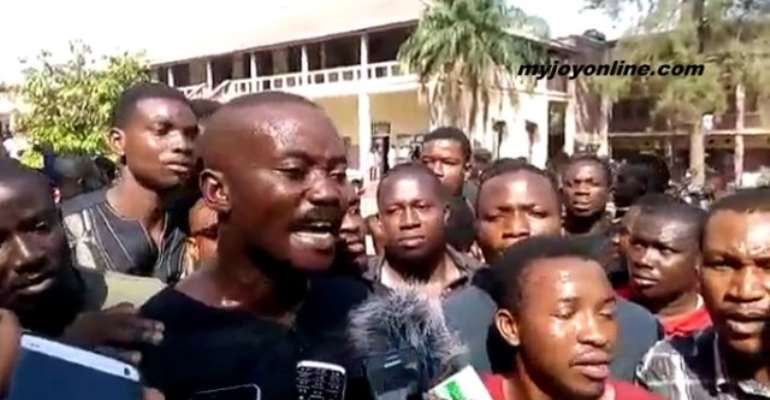 Two vigilante groups affiliated to the governing New Patriotic Party are on a collision course over the status of Ashanti Regional Security Coordinator, George Adjei.
In what will be a counter move to the Rambo style ejection of the Coordinator from office last Friday by the Delta Force, another group, a more popular vigilante group within the NPP, the Invincible Force is demanding the reinstatement of Mr Adjei.
The Invincible Force is reported to have sent a petition to the Asante King, Otumfuo Osei Tutu II stating they are ready to work with Mr Adjei who was bundled out of his office by the Delta Force on Friday.
The Organiser of the Invincible Force, Haruna Odenke, told Luv FM's Erastus Asare Odonkor that the petition was to appeal to Otumfuo to ensure that the Security officer is brought back to the region to work.
He was part of the new appointees by President Nana Akufo-Addo to coordinate security arrangement in the Ashanti Region but a vigilante group in the Region, the Delta Force kicked against his appointment.
They argued Mr Adjei was not part of the struggle to return the NPP to power and they would rather another person is appointed.
Not even the petition sent by the Invincible Forces to Manhyia and the threat by the group to support the president's appointee will stop the Delta Force from protesting.
Asare Odonkor is learning the Delta Force, after their 'ejection' of Mr Adjei is also planning a counter petition to Manhyia to reiterate their resistance of the Security Capo. They are also planning a massive demonstration in Accra to demand the removal of Mr Adjei.
With the entrenched positions taken by the two vigilante groups, there is likely to be the possibility of clashes between the two depending on what decision is taken about Mr Adjei.
On Friday over 200 members of the Delta Force marched to the premises of the Ashanti Regional Security Command, broke into the offices and drove the coordinator out.
He was manhandled amidst shouts and chants. The aggressors broke louvre blades, vandalised furniture and ransacked the office.
"There was blood all over the floor", Luv FM's Erastus Asare Donkor told Myjoyonline.com. A man sustained cuts on his body but explained, he deliberately cut himself with a Louvre blade to pronounce a curse on the security capo.
The organiser of the group Kwadwo Bamba, was arrested over the weekend but was granted bail, pending further investigation.
According to Asare Odonkor the Regional Security office has been abandoned with officials yet to fix the mess left behind by the attackers last Friday.
Meanwhile the Ashanti Region Chairman of the Peace Council Prof Seth Opuni Asiamah is asking the president and the Inspector General of Police to show leadership in what is beginning to be the rule by vigilante groups.
Story by Ghana|Myjoyonline.com|Nathan Gadugah