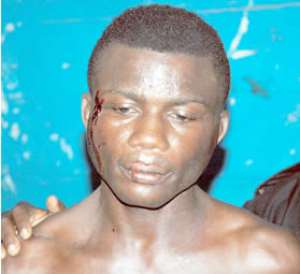 Accra, April 21, GNA - An Accra Fast Track High Court on Thursday said it would in the interim get lawyers for Aryee Ayetey, alias Ata Ayi and his accomplices charged with robbery and conspiracy, so that the trial could commence. This is because the accused persons, apart from Samuel Kweku Annan, alias Sammy Tugah, have no lawyers to defend them. Mr J.K. Yeboah is representing Annan. At Thursday's sitting the accused persons pleaded with the Court to allow them time to engage the services of counsel. Ata Ayi, who the Police have described as a notorious criminal, appeared with Samuel Kweku Annan, Roger Kobla Abodoga alias Rojay and Raymond Ameh. They are being held for a robbery incident at Dzorwulu in Accra. Their pleas have not been taken and neither have the facts of the case been read because the accused persons do not have counsel to represent them.
Ata Ayi and the two others claimed they had asked their relations to engage the services of lawyers for them, but none of their relations turned up.
At Thursday's sitting, Lawyers, who appeared at the court for different cases, refused to represent the accused persons when the Court asked them to represent the accused.
When the GNA spoke to one of the Lawyers, he said: "I can't afford to have my car smashed in town because of this case."
Mr Yeboah, who represented Annan, told the Court that he was contacted on Wednesday night and pleaded with the Court to grant an adjournment to enable him to consult his client. "I know I will be chastised by the relatives (of victims of the robbery), Lawyers and the public but morality is different from legality," Mr Yeboah said.
The case was adjourned to May 4.
The same court is trying Ata Ayi and six others for a similar offence.
A large crowd including the First Deputy Speaker of Parliament, Freddie Blay was at the Court to catch a glimpse of Ata Ayi, whom the Police had declared wanted for several years. Ata Ayi had earlier appeared before the Adjabeng District Magistrate's Court on similar charges.