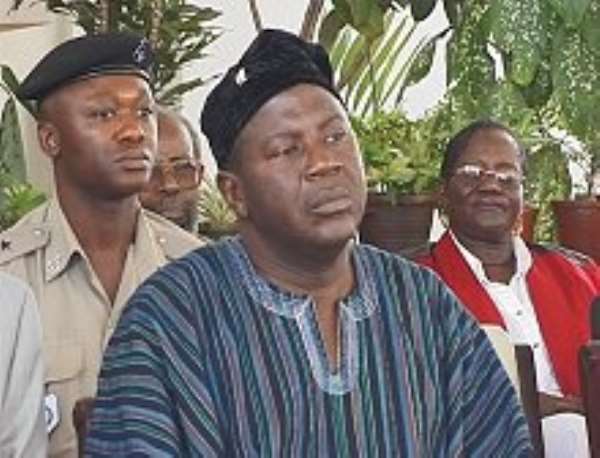 Mpraeso, March 27, GNA - Vice President Aliu Mahama has asked members of the New Patriotic Party (NPP) to unite and make relentless sacrifices towards the goal of making Ghana peaceful and prosperous stressing, 'we cannot fail in our responsibility to move Ghana ahead.' Addressing members of the party at fund-raising dinner at Mpraeso, Vice President Mahama stressed: "The task ahead can only be accomplished through sacrifice, greater unity among us and respect for one another.
"We will have to broaden our perspectives on many issues, especially as they relate to the historic assignment of moving the country forward. We must be prepared to subsume our individual preferences, prejudices, egos and narrow perceptions for the collective good of our party."
Vice President Mahama, however, commended supporters of the party around the nation for their commitment to the promotion of the liberal democracy ideology over the years, saying the leadership was appreciative of their contributions.
He noted that though the Kufuor Administration had made great strides toward the building of a just, humane and prosperous society for all, much remained undone, thus requiring strengthening of efforts. "Our government, under the leadership of H.E. John Agyekum Kufuor has become and would remain a reference point for good governance for all future governments," he remarked.
"Ghanaians have tasted a Government that is humane, tolerant, transparent and accountable and will not accept anything less." He mentioned the recent vetting of ministers, which was broadcasted live across the nation and the peaceful "Wahala" demonstrations against the government as essential elements of a free and open society that must be cherished.
He launched a raffle to raise funds to support Positive Change Chapter Two. A salon car is at stake for the first winner. Minister of the Interior, Papa Owusu-Ankomah, Mr Hackman Owusu -Agyeman, Minster of Works and Housing, Mr Yaw Barimah, Eastern Regional Ministers and some members of NPP National Executives attended the event, held in the capital of the Kwahu South District