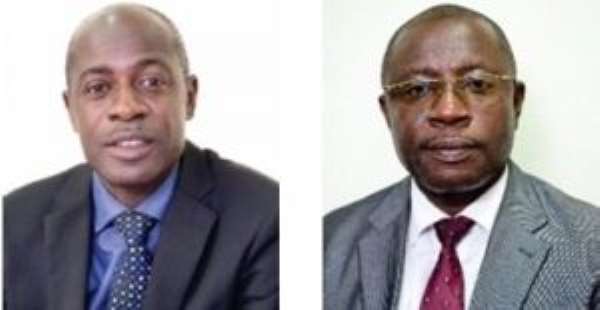 The Ghana Airports Company Limited has appointed two Deputy Managing Directors in the names of Mr Charles Hanson Adu, Operations & Technical and Dr John Okwesie Arthur, Finance & General Services.
A statement in Accra by the Management of the company and copied to the Ghana News Agency on Monday said the appointments made by the Board of Directors takes effect from November 1.
"This follows the on-going organisational restructuring and a special resolution passed at the Annual General Meeting held on October 27, 2016, for the creation of Executive Positions within GACL.
"Pursuant to the resolution, the GACL Board at its meeting held on the same day approved the appointment of two the Deputy Managing Directors, effective November 1, 2016, the statement said.
It added that prior to their appointments; Mr Charles Hanson Adu was the Director, Airport Operations having begun his career in the aviation industry in 2001 as the Aerodrome Chief Fire Officer at the

Ghana Civil Aviation Authority.
He was appointed Director, Airport Operations in 2009.
He is a graduate of the Airport Management Professional Accredited Programme and has completed the International Airport Certified Employee Programme as well as the Comprehensive Airport Management Training Programme with the Houston Airport System, Texas, and United States.
He is also a Graduate Member of the Institute of Fire Engineers of the United Kingdom and has also obtained an MSc Risk, Crisis and Disaster Management from the University of Leicester (UK).
Reverend Dr John Okwesie Arthur until his appointment was the Director of Finance. He began his career in the aviation industry in 2002 as an Audit Manager at the Ghana Civil Aviation Authority and has since progressed in his career.
He was appointed Director, Commercial Services in 2008 and served in that capacity until 2014 when he was appointed Director of Finance.
He is a graduate of the Airport Management Professional Accredited Programme Atlantic International University and the University of Hull, UK. He is a member of the Institute of Chartered Accountants (Ghana), Ghana Institute of Management, Chartered Institute of Taxation (Ghana), Institute of Internal Auditors (Ghana & US) and the Association of Airports Internal Auditors.
Source: GNA