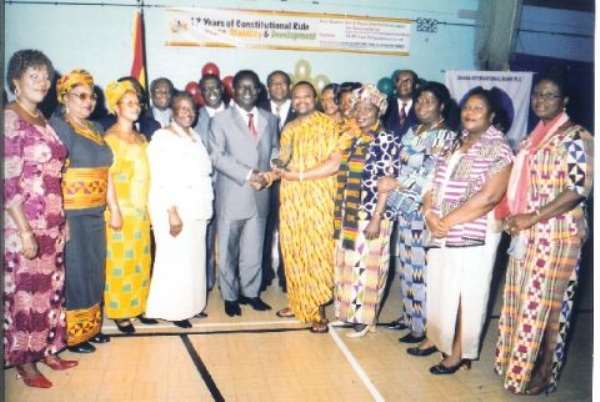 The Ghana Nurses Association UK, has been presented the platinum award for topping the list of group contributors to the £10-To-Save Appeal Fund launched by the Ghana High Commission last year in support of the of the Children's block at Korle-Bu Teaching Hospital, Accra. The President of the Association, Mr. Dela Doe presented the cheque of £10,000 to H.E Mr. Isaac Osei, Ghana High Commissioner to the UK at the colourful fourth annual forum for the Ghanaian community in London. Hon. Dr Kwame Addo Kufuor Minister of Defence supported by Hon Kwamena Bartels, Minister for Private Sector Development and Presidential Special Initiative and Mr, Isaac Osei Ghana's High Commissioner to the UK, presented the award and thanked members for their contribution. Other Associations received awards during the event. Dr. Addo Kufuor thanked Ghanaians in the UK for their charitable causes in Ghana.
"The people are grateful to you for your contribution of £13,000 to the Accra Sports Stadium Disaster Appeal Fund, £27,000 for the Police Appeal Fund and your generous donation of £25,000 to the children block of the Korle-Bu Teaching Hospital" Dr & Mrs Emmanuel Akuffo received the gold award in the individual division for contributing amount of £2,700 while two Ghanaian couples based in New York, US, namely, Mr & Mrs Ofori Boah and Dr. & Mrs Raphael Osei received the silver awards for contributing US $1,000 each. In the group division, the Ghana Union in Reading which made a contribution of £1,500 (not £1,300 as previously published) received the gold award. The silver went to the Ghanaian Union in Middlesbrough and Darlington for donating an amount of £1,300 while the South London Ghanaian Association, which paid £1,230, received the bronze award.
The special award for religious associations went to the Pan African Ahmadiyya Muslim Association which contributed £1,000
PICTURE: CaptionDr Addo Kufuor shakes hands with Mr Dela Doe President of Ghana Nurses Association UK after receiving the Platinum Award on behalf of the Association.