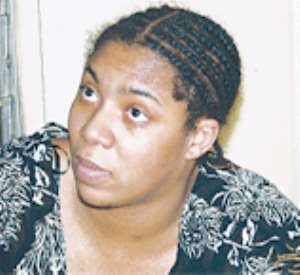 Accra, Feb. 2, GNA - The Prosecution in the case of Warren Carmella Toni, an American who was extradited from the US to stand trial for possessing 151.9 grams of heroin on Wednesday substituted charges preferred against her.
Carmella, a Loan Officer, is facing a charge of possessing narcotic drugs without lawful authority. Earlier Carmella was charged with escaping from lawful custody.
The court did not take Carmella's plea and remanded her into prison custody to reappear on February 16.
The case as presented by the Prosecution was that on March 26, 2002, Carmella was arrested at a checkpoint at Kotoka International Airport with 18 sachets of powdery substances suspected to be narcotic drugs while she was about to embark on a flight to Amsterdam. The Prosecution said the substance was found in Carmella's brassier, underwear and a wig fixed on her head.
The Prosecutor said preliminary field test of the substance proved it was heroin.
Carmella was arrested and put before court and remanded. On April 5, 2002 she escaped from custody but through the efforts of International Police (INTERPOL) she was extradited from the US. The Prosecution said when the substance was sent for analytical examination it was confirmed to be heroin and weighed 151.9 grams. 02 Feb. 05