Thirty held in Uganda over 'coup plot'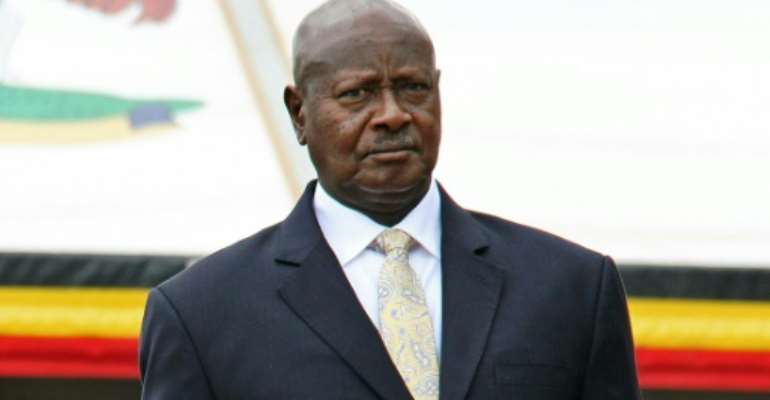 Kampala (AFP) - At least 30 people with suspected ties to a shadowy rebel outfit have been arrested in Uganda over an alleged plot to topple President Yoweri Museveni, the army said Friday.
The detainees include serving soldiers and a senior opposition lawmaker and are "linked to a rebel group," army spokesman Paddy Ankunda told AFP, but declined to name the outfit.
"We and the police are investigating the matter," Ankunda said, adding that most of those arrested were soldiers.
At least one member of parliament and another opposition politician have been arrested.
The only detainee named by the spokesman was Michael Kabaziguruka, an MP from the main opposition Forum for Democratic Change (FDC) party whose leader Kizza Besigye is in custody on treason charges.
Besigye, who cried foul after coming second to Museveni in February's presidential election, was arrested last month for holding a mock swearing-in ceremony.
Museveni garnered a first-round victory with a more than 60 percent share of the vote that foreign monitors said was held in an atmosphere of intimidation.
Besigye, an old foe of the president, was previously charged with treason in 2005 but the case was eventually abandoned. At the time, prosecutors had accused him of leading a shadowy rebel group called the People's Redemption Army, a charge Besigye always denied.
FDC party spokesman Ssemujju Nganda went to visit Kabaziguruka after his arrest.
"He told me he was questioned on rebel links, which he didn't know about," said Nganda, adding that other party supporters "are under detention on the same claim".
The local newspaper Daily Monitor said one of the arrested soldiers is a captain responsible for the armoury at the Bombo Military Barracks, the army headquarters north of the capital Kampala.
It also quoted the FDC spokesman as saying that Kabaziguruka had been grilled "about Dr Besigye and General (David) Sejusa's links to the same rebel group".
Sejusa was Uganda's former spymaster.
Over the years Besigye has been frequently jailed, placed under house arrest, accused of both treason and rape, tear-gassed, beaten and hospitalised.
Following the latest charges of treason, Besigye was sent to a maximum security prison in Kampala.
His trial opened last week with the prosecutor saying he could not be brought to court because of a "specific security threat" and requested that further hearings be held inside the prison.
Chief Magistrate James Ereemye Mawanda said he would rule on the request on June 15 and adjourned the case until then.