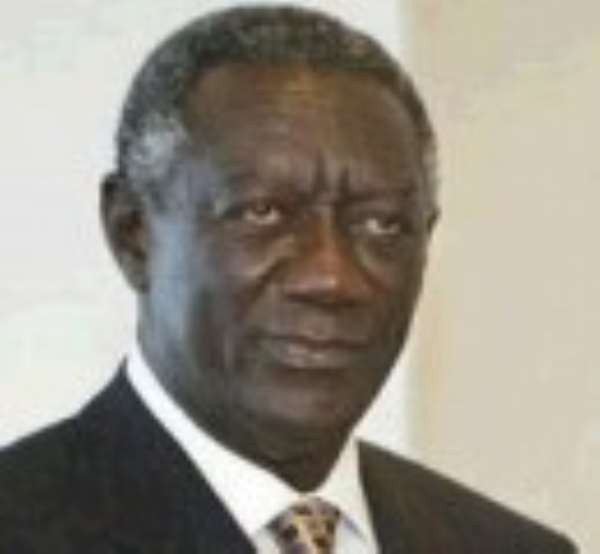 Accra, Jan 7, GNA - President John Agyekum Kufuor on Friday, said Ghana richly endowed by nature, is poised to take off in pursuit of the country's true destiny.
He said "this nation, having embraced the rule of law, having stabilised the economy and the engendered an enabling atmosphere with the goodwill and support of her development partners should be moving ahead at an accelerated pace without let or hindrance".
President Kufuor was delivering his 20-minute inaugural address after being sworn into office for a second four-year term by the Chief Justice, Mr Justice George Kingsley Acquah, at the Independence Square in Accra.
President Kufuor took the oath of allegiance and office administered by the Chief Justice and swore on the cross while Vice President Alhaji Aliu Mahama swore on the Koran.
He said, "As I stand before you today, I can foresee a prosperous and self-confident people in a politically stable and maturing country". "I see a country at peace with itself and governing itself with a clear sense of direction and according to enlightened laws".
President Kufuor said, "I foresee a country that is aware of its place under the sun, in our sub-region of West Africa, our continent of Africa and indeed as part of the emerging global village".
He said for Ghana to realise this vision, it must develop its human resource base adequately, adding, "Ghana must have a population that is well educated to meet the challenges of the modern world".
President Kufuor said the nation must promote a business and entrepreneurial sector, which was able to exploit her many resources and compete effectively in the international market place.
He said the centrepiece of all efforts should be sustained good governance, a critical pivot to ensure the peace and stability needed for development.
President Kufuor said the bane on Ghana's socio-economic development had been bad governance, saying, "Our bane has been bad governance that has bedevilled every attempt at pulling Ghana out of the ranks of poor nations".
He called on Ghanaians to re-dedicate themselves to the disciplines, sacrifices and hard work necessary to make this vision a reality.
"We will have to take pride in our country and its institutions. We must cherish the legacy left us by our Founding Fathers in the national motto of "Freedom and Justice". And in our largely reconciled society today, the citizenry must be each other's keeper," President Kufuor added.
President Kufuor appealed to politicians to make a special effort to play by the rules and rebuild confidence in politics and political institutions.
He said, "We must acknowledge that in trying to destroy our political opponents, we often end up destroying the confidence of the people we seek to lead and instead plant deep mistrust that becomes almost impossible to uproot. Ghana deserves better".