Activa International Insurance supports SWAG for 4 years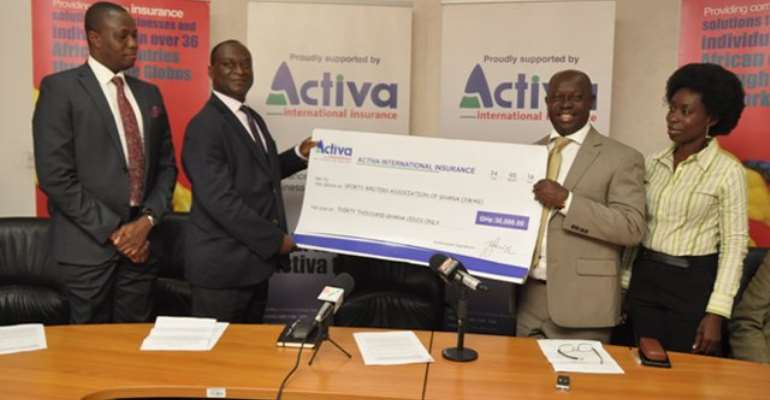 Activa International Insurance Company, has presented a cheque for GH¢30,000 as a sponsorship support to the Sports Writers Association of Ghana (SWAG) towards the smooth organization of this year's SWAG Awards Night slated for Saturday, June 4, 2016 at the State Banquet Hall, Accra.
The cheque presentation was done by Managing Director of Activa International, Mr. Stephen Kyerematen, at a short but impressive ceremony that took place at the offices of the International Insurance giant, at Heritage Towers, Ridge, Accra on Tuesday, 24th May, 2016.
Presenting the cheque to SWAG, Mr. Kyerematen said, "For four years running, Activa International Insurance has been supporting the Sports Writers Association of Ghana as a major sponsor in organizing its Annual Awards Nite, which without doubt is the most prestigious and highly recognized award ceremony in honour of our gallant sports personalities in all sporting disciplines in Ghana".
"Last year, on a similar occasion, I made an appeal to Corporate Ghana to get involved in providing CSR support to SWAG for a worthy cause and I am pleased to observe that MTN has done it again as a lead sponsor for the SWAG event. It is commendable that CDH Holdings has this year stepped up their support to SWAG as a major sponsor. I wish to take the opportunity to appeal to other business houses in Ghana to consider sponsorship to SWAG as a means of encouraging our Sports heroes who always bring Ghanaians together anytime they are engaged in international sports competitions and put smiles on our faces with their victories in the various disciplines of sport. Sports indeed represents one of the best branding opportunities for mother Ghana", Mr. Kyerematen added.
"On this occasion I wish to bring to the attention of Ghanaians the importance of insurance in our national and individual daily lives. We are currently in the rainy season in Ghana and this brings to mind the man-made and natural hazards and catastrophes which we are exposed to as a people. June 3rd 2015 serves as a vivid illustration and reminder of the very heavy and sad loss of life, loss of material possessions and damage to public infrastructure which we suffered. Activa for one incurred a gross loss portfolio of GHc 78 million almost twice our premium income in 2015. Our payment of insurance claims to our affected clients brought essential relief to several corporate entities and individuals. But for reasons of prudent management and the support received through reinsurance there is no way we could have turned a profit and manage to offer the current sponsorship to SWAG.
The purpose of this reference is to take the opportunity to sensitize Ghanaians on the value and importance of insurance in general and to appeal to the Government as well as the various sports organizations in Ghana to seriously consider providing available insurance coverage to our gallant sportsmen and women during their useful sporting lives such that if they suffer any mishaps they would enjoy insurance indemnity. Simple insurance products such as personal accident insurance, health insurance etc will be appreciated by our sports heroes. In other environments it is known for example that prize boxers are able to insure their wrists against accidental damage and injuries sustained during the course of boxing bouts however this is not the kind of coverage I am referring to. Activa International Insurance Company like other insurance companies in Ghana are willing and able to provide solid insurance coverage to Ghanaians be they corporate and individuals in all classes of insurance other than Life Insurance", Mr. Kyerematen concluded.
On his part, Mr. Kwabena Yeboah, president of SWAG lauded Activa's efforts at supporting the Sports Writers Association of Ghana and mentioned that Activa had distinguished itself as the foremost insurer of multinational companies in Ghana and provided world class insurance solutions including niche products that hitherto are not available on the Ghanaian market.