Kumasi Hive to Host May Edition of Startup Dialogues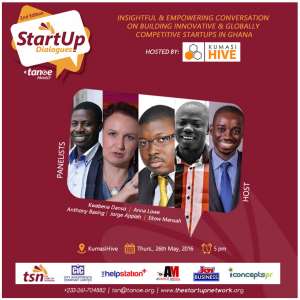 ​Startup Dialogues, an initiative of The Startup Network aimed at encouraging insightful, engaging and empowering conversation amongst startup support stakeholders, policy makers, startups and successful entrepreneurs, is set for its second Edition to be hosted by Kumasi Hive in Kumasi in the Ashanti Region of Ghana on Thursday, the 26th of May, 2016 from 5pm.
The Startup Dialogues, is a monthly event, designed to provide the relevant and adequate information, guidance and resources needed by startup entrepreneurs to enable them build innovative, sustainable and globally competitive businesses. The 2nd Edition will host panellists with insights into the current state of the startup ecosystem in Ghana and experience in building sustainable, innovative and high growth businesses.
Panellists including: Anna Lowe; Co-Founder & Director, Kumasi Hive, Kwabena Danso; CEO, Boomers International, Jorge Appiah; CEO, Creativity Group, Dr. Anthony Basing, CEO, Incas Diagnostics and Emmanuel Owusu Addai, Co-Founder & CTO, Farmerline are all poised to discuss ways to improve startups in Ghana and also provide adequate knowledge & direction aimed at guaranteeing the survival and consistent growth of startup.
The Startup Dialogues is an initiative of The African Network of Entrepreneurs (TANOE) in partnership with Joy Business & Avance Media Powered by the Help Station by City Investment Company Limited.
The Maiden Edition, hosted by Ispace Foundation in Accra, had panellists such as Ato Ulzen-Appiah of GhanaThink Foundation, Alison Roadburg of ISpace Foundation, Asabea Agbenu of Windrow Consult and Ekow Mensah of TANOE.