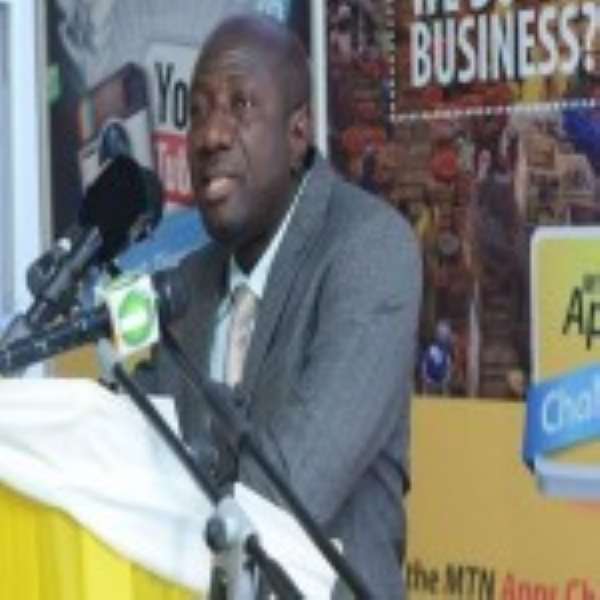 Nii Amaa Ollennu, Vice President, Italian Business Association of Ghana

MTN, the leading telecommunications company in Ghana, says it will focus on improving coverage in the rural communities.
According to the Chief Executive Officer (CEO) of MTN Ghana, Ebenezer Asante, the company has solid network infrastructure in the urban areas which could remain intact for more than a year without any problem.
"We are going to work with the Ghana Investment Fund for Electronic Communications (GIFEC) to enhance rural coverage."
Speaking at the annual MTN Editors and Stakeholders' Forum in Accra, Mr Asante said the company was focusing on rural telephony to improve the quality of voice and data services in the rural communities.
He said part of the company's expenditure for this year would be used to improve systems network, growth, innovation and business optimization investments and further invest in sites and upgrade existing ones in the rural communities.
Mr. Asante said the company has earmarked $62 million this year to grow its network.
Revenue growth
Despite the increased competition, he said MTN recorded about GH¢2,315 million increase in revenue and 17.3 percent increase in subscribers.
Mr Asante said MTN Ghana contributed significantly to the overall profits of the MTN Group for the year under review, with revenue increasing by 0.1 percent to 146.4 billion South African Rand.
He revealed that the company had invested a total of $163.5 million in country, explaining that $67.5 million alone has been used for the acquisition of a 4GLTE licence from the National Communications Authority (NCA).
.
He said MTN will soon roll out its 4G service to give its customers a new digital communications speed.
Taxes To Gov't
For very GH¢1 spent by a customer, he said a total of 34.5% of that goes into the payment of taxes such as the Value Added Tax (VAT), National Health Insurance Levy (NHIL), National Communications Authority (NCA), among others.
MTN Ghana in 2015 alone paid a whopping GH¢675.6 million to the government as taxes as against GH¢605 million in 2014.
By Cephas Larbi
[email protected]