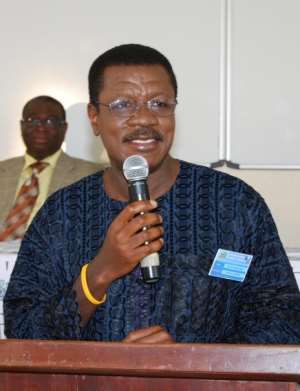 Pastor Mensa Otabil
The International Central Gospel Church (ICGC) was officially inaugurated on February 26, 1984 in Accra. The renowned charismatic Church was founded by Dr. Mensa Otabil with the aim of raising leaders, shaping vision, and influencing society through Christ.
As part of activities marking the 32nd anniversary of ICGC, the Christ Temple Assembly is organising a-12km Life Walk to raise funds in support of the Children's Cancer Unit of the Korle-Bu Teaching Hospital.
This year's health walk is slated for Saturday, March 19, 2016, under the theme: "Walk for life; support a worthy cause". The event will be attended by thousands' worshippers within Accra.

Over the past three decades, the ICGC has been instrumental in building leaders, shaping vision and influencing society with scriptural principles.
Foundation
Pastor Mensa Otabil founded ICGC in 1984. Formerly the Kanda Christian Fellowship, the newly established Church held its first meeting in a classroom with an initial membership of twenty.
Among the early ministers who embraced the vision of Rev. Otabil were Pastors Edwin Donkor, Rich Donkor, Kofi Okyere, and Morris Appiah.
During the early stage, the Church relocated from one place to another including the Accra Senior High School, the National Vocational Training Institute (NVTI), Osu Regal Cinema Hall, and the Baden Powell Memorial Hall.
Recounting the history of ICGC, Pastor Otabil lamented over a few occasions when members didn't know where exactly to meet. A challenging condition that compelled members to meet in private residence.

Ten years later, the membership increased significantly to over 4,000 following the introduction of local assemblies in the major towns and cities of Ghana. It was around this period that the Church gained stability.
Beginning as a small fellowship at the Kanda Cluster of Schools in Accra; today, ICGC can boast tens of thousands membership with over 450 assemblies (branches) in Ghana, Europe, USA, and some African countries.
General-Overseer
The Founder and General-Overseer of ICGC, Pastor Mensa Anamua Otabil, is also the Senior Pastor of Christ Temple Assembly. Apart from preaching the Gospel, he is a lecturer, author, entrepreneur, consultant, and a motivational speaker.
Born on August 31, 1959, at Sekondi-Takoradi in the Western Region of Ghana, he was the fourth born in a poor family of five siblings. Otabil started his elementary education at Anglican Primary School in Sekondi.
When his family moved to Tema in 1966, he worshipped at St. Alban's Anglican Church, and later joined the Assemblies of God Church. Young Otabil was a member of Power House Fellowship.

After passing his Common Entrance Exams, he gained admission to Swedru Secondary School (SWESCO) in 1972, and completed his "O" Level in 1977.
Shortly after the death of his parents, he relocated to Roman Ridge in the late 70s where he joined the Kanda Christian Fellowship. Around that time, Otabil gained employment at the Audio Visual Department of the Ministry of Information.
His inspirational radio and television programme, Living Word, has chalked massive success reaching millions in Ghana and beyond more than 20years. Most messages of Pastor Otabil focus on practical Christian living, development, family life, and leadership.

As a regular listener of Living Word, my spiritual life has never been the same. Some of my favourite sermons are: "Marriage 101", "Christ in You the Hope of Glory", "The Power of Vision", "Mindset", "Precept upon Precept", and "Fix your eyes on Jesus".
Living Word reaches more than 15million viewers on some selected television stations in Ghana and overseas.
Unsurprisingly, Dr. Mensa Otabil was adjudged Ghana's "Most Influential Personality" in 2015. In 2007, he was honoured by the Government of Ghana with a state award, Order of the Volta (Religion).
Pastor Otabil was awarded doctorate degrees for his works in various fields. He is the founder and Chancellor of Central University College, and Chief Executive of Otabil and Associates, an executive and leadership growth consultancy.
He is happily married to his all-time love, Joy Otabil, and they are blessed with four children.
Social intervention
The Church has, over the years, funded a number of projects including construction of boys' dormitory for the Osu Children's Home, donations to the Ghana Heart Foundation, and provision of boreholes for needy communities.
Since the vision statement of ICGC is not only committed to the spiritual needs of its members, Central Aid was established in 1988 to cater for the social needs of people.

Central Aid is a human development-oriented agency of ICGC aimed at implementing the Church's corporate social responsibility. It is the brainchild of Dr. Otabil who, from personal experience, has deep compassion for the needy.
Educational Scholarship: under the Central Aid, over 3,000 brilliant but needy students throughout the country have, so far, benefited from the scholarship.
Presently, there are 425 beneficiaries on the scholarship scheme pursuing their secondary education in 137 schools across the various regions in Ghana.
As a matter of fact, plans are far advanced to extend the scholarship to brilliant students who intend to further their education at the Central University College.
Community Development: some communities and institutions – orphanages, schools, and health facilities have benefited from Central Aid.
Some of the completed projects are: expansion of Princess Marie Louise Children's Hospital, renovation of a three-classroom block of Akufful-Krodua Catholic JHS in Central Region, construction of 20 boreholes for La communities in the Ga West, and many more.

"Service to humanity is service to God", they say. Pastor Mensa Otabil is a great asset to our generation, and I am proud to be a member of this great family, Christ Temple. I wish all ICGC members a happy anniversary in our year of 'Influence'.
"No matter what prison you are in, nobody can imprison the power of your imagination", Pastor Mensa Otabil.
ASP James Annan
Gt. Accra Regional PRO
Senior Correctional Centre
[email protected]