Gov't To Improve Accommodation For Armed Forces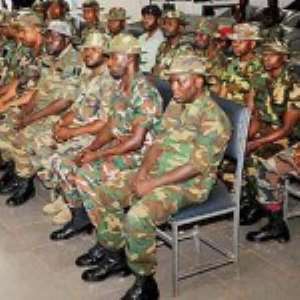 The Deputy Minister of Defence, Kenneth Adjei has reassured people of the Ghana Armed Forces (GAF) that government will work assiduously to resolve their accommodation problems.
Mr. Adjei gave the assurance over the weekend at the end of the year dinner and dance ceremony at the 37 Military Hospital officers mess in Accra.
He commended the staff of the 37 Military Hospital for their dedication and hard work in spite of numerous challenges.
The deputy minister said in recent years, the nation has recorded national disasters, disease outbreaks and strike actions which to a large extent stretched the resources of the hospital.
"The hospital's ability to handle the situation despite all the challenges provides assurance to the people and government that the military hospital is capable of performing under the most challenging situations to ensure efficient healthcare," he added.
He said the dedicated and endless hours of service, motivation and focus of staff in the face of several obstacles had been recognised.
Mr Adjei said 37 Military Hospital is the base hospital for the country's Armed Forces, National Emergency and Disaster Hospital, and the Level 4 Hospital for the United Nations deployment in West Africa.
.
It also continues its expanded role of catering for clients and patients from all parts of the country, and serves as a referral centre, he stated.
The Deputy Minister said the additional roles call for an improvement in infrastructure and logistics to ensure the smooth running of the facility.
He said the country's health sector has witnessed massive infrastructural development and retooling in the past few years which include the construction of new hospitals.
Mr Adjei said the soon-to-be completed 500-bed Military Hospital in Kumasi would be the second largest hospital in the country which will improve access to quality healthcare for people in the middle and northern parts of the country, while reducing pressure on 37 Military Hospital.
[email protected]/[email protected]
By Melvin Tarlue