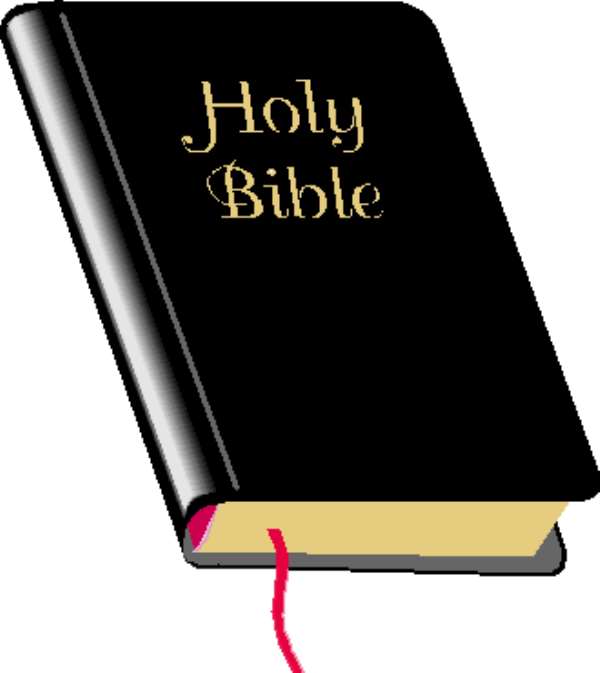 A very radical and unique version of the popular King James Version Bible was published just at the tail end of the twentieth century; on the quiet, I'd say! And so, after close to two decades now, this edition is yet to become popular among the teeming loyal and dedicated users of the KJV Bible; for whose information, one would suppose, this new edition was published!
Why users of the KJV have remained largely ignorant of this latest edition, only its publishers can give a definite answer. People like me can only hazard a guess to say that the publishers of this new edition may themselves be embarrassed by their own product!
This latest edition of the KJV Bible is titled, The Restored Names King James Version Bible (RNKJVB). Well, it may not be new to some people after all, having been published as far back as 1999, but, it is certainly new to me and hence my dedication in helping create awareness about it, since parts of its message vindicate my long-held stance that all is not too good with the English Bible with regards to the names and titles of some of its key personalities.
Someone may ask to know: "What is radical and uniquely new about this RNKJV Bible?" Well, its radicalism stems from a part of its title—"The Restored Names"! "What names", one may further ask??
The answer is: these are the true Ivrit (Hebrew) names of the Most High One and His Son, who once sojourned on planet Earth and offered his body in sacrifice for the redemption of mankind from sin and from Lucifer!
As is known to many people, all versions of the English Bible are mere translations from an original Ivrit script; for, the Most High One revealed Himself to mankind through the children of Yisroel by speaking to them in Ivrit and this revelation was recorded in Ivrit and, in the very beginning, was entrusted to the children of Yisroel for keeps; for and on behalf of posterity.
So then, every English Bible is actually a translation from this Ivrit-scripted book of instructions for mankind that was entrusted to the children of Yisroel. However, it must be said that no English Bible is derived directly from the Ivrit original!! This is because the Ivrit original of the Word of the Most High One was, very early in the day, translated, first into Greek and then Latin, long before the coming of the English race and their language; and from these two, all English translations take their inspiration!
It must also be said that no evidence exists to give proof that any person or group of persons were ever mandated by the Most High One to translate His Ivrit-scripted instructions to mankind into any other language. And so, whatever mankind has believed of any Greek, Latin, or English translations to be any true instructions of the Most High One to mankind may not necessarily be so, simply because of the effect of human error inherent in the work done by every translator.
If the works of bible translators were mandated by the Most High One, He would have of necessity also supervised them while they worked. And then, there would never have been any errors in the resulting versions. But, as it is, there are errors in all English Bibles and, hence, the many attempts at revisions, editions, amplifications and even retranslations that are constantly being done in attempt to make them safe for mankind's consumption! Even the current RNKJV, as it is, must be considered as a work in progress!!
Of the most serious errors inherent in all versions of the English Bible is the rendering of almost all Ivrit names and titles of people, places, tribes, and feast names which were determined by the Most High One, into so-called English equivalents by translators; and this is what the RNKJV seems to want to correct!
Names of people, places, feasts and races or tribes are proper nouns, and thus are not translatable from any one culture to another. They must be made to remain the same in any differing languages that are used to tell the history of any particular people; more so when such names are determined by the Most High One.
Of course, one may tell the history of the children of Yisroel in English, but that history becomes incredulous, and in fact forged, fake, and or poisonous for consumption when non-Ivrit names are accorded Ivri characters of that history in place of their Divinely-given Ivrit names!!
But this is precisely what all translators of all English Bibles have failed to recognize down the ages, and so they have wrongly rendered the Ivrit names of the Most High One and His son, and holy men who had business to do in the execution of the salvation plan of the Most High One as revealed in the Ivrit Scriptures, into different names of Goyim (Gentile) origins!!
As a result of this, the true and genuine Ivrit names and titles of even the Most High One and His son have become unknown to readers of the English Bible ever since its inception, simply because they have been replaced with Goyim "equivalents"! Who then, are those whose non-Ivrit names mankind has called in faith for salvation since the days of the first English Bible??
So then, whatever radicalism and uniqueness that characterizes the RNKJVB lies in the restoration of the Ivrit names of the Most High One and His son to replace those of Goyim origin, which, at the inception of the KJV Bible, had been sacrilegiously accorded them. Therefore, wherever in the KJV the Goyim name "God" was used to refer to the Creator, and also "Jesus" and "Christ" in reference to His son, these have now been replaced with "Elohiym", "Yahushua" and "Messiah" respectively, in the RNKJV!!
What this means is that the word "God" used in reference to the Creator must be a thing of the past, illegal and anti-truth since 1999! So then, for all the thousands of times that the word "God" exists in the KJV, every one of them has now been expunged from it and must also be deleted from the memory of its readers, who, for centuries, programmed their memories with this wrong word—or else, they forever endanger their salvation!!
After readers of the KJV Bible succeed in deleting this word from their memory, they are also told by the publishers of the RNKJV to do same for such associated words as Godhead, godliness, godly, God's and God-ward that have been in the KJV since its first publication in 1611!
What a terrible task it is to do; for people to unlearn a lie that was once taught and preached to them as the truth, and which they also accepted and acted upon, only to be told later on to delete this lie from their memories!! Well, what all this means is that it is no longer of any value or effect for anyone to swear by the name "God", ever since 1999; it could even be that one may be invoking an evil being in swearing by "God"!!
The 1992 Constitution of Ghana was only seven years old when the publishers of the KJV Bible updated their message of salvation by deleting "God" from this message of theirs and replacing it with Elohiym. Now, because, in crafting this Constitution, its framers took inspiration from a then so-called "Authorized" KJV Bible which was accepted world-wide as valid even with the word "God" in it, all oaths under this constitution—whether Presidential, Judiciary, Parliamentary, Ministerial, etc—were to be sworn by the Almighty "God".
However, with the word "God" now struck out of the KJV Bible and replaced with Elohiym, all such oaths must cease to have meaning, validity, good effect, or relevance when anyone is made to swear by them today! Such oaths now stand null and void!!
Now that "God" is no longer the Almighty, simply because those who once gave the world this name as belonging to the Almighty now say otherwise, the 1992 Constitution of Ghana must take cognizance of this revelation, and immediately expunge the word "God", from within it—for, it is now an Elohiym spirit that must rule the universe, and not that of "God". All Bible-believing elected Presidents, officers of the Judiciary, Parliamentarians, etc, SHALL now swear in the name of the Almighty Elohiym!!
I deem this issue a very serious one that has far reaching effects world-wide; and this must spread beyond the borders of Ghana to alert democracies with similar constitutions—the USA in particular. I am sure the people of the USA will boldly accept to strike out the word "God" from their constitution because they believe in truth and perfection; and so must lead the world in this way!
When, on January 20, 2009, President-elect Barack Obama was being inaugurated as the 44th President of the USA and had to swear the Oath of Office, he fumbled in uttering some of the words of that oath! He was compelled to swear the oath a second time, the next day, so as to ensure that as he swore, the words of his oath would convey their truest meaning, value and import! What if he had sworn by an oath that had the word "Elohiym" in the stead of "God" at that time, since the two words are not only pronounced differently but also mean and manifest differently??
When constitutions the world over begin to get amended to take cognizance of what the RNKJV Bible reveals, then shall Heaven rejoice; for then, TRUTH would have reached the kingdoms of men on Earth!! And then, shall the Kingdom of the Most High One begin to take root in the affairs of men on Earth! Shalom Aleikhem.
PS: Should readers of this and any of my articles have serious questions or suggestions, they may contact me via e-mail by clicking on "Contact" on the Home Page of my website, http://sbprabooks.com/BongleBapuohyele . You may also purchase a copy of my book—Beware of This False Doctrine: Of Reciting the Sinners' Prayer for Salvation—via the same web address so, together, we walk the narrow way to the presence of Elohiym. Shalom.