2 Teens Grabbed For Stealing Cocoa Beans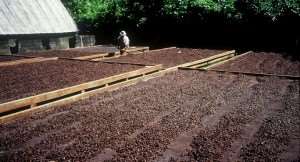 Cocoa beans being dried
Two teenagers are in the custody of the New Edubiase police after they were alleged to have stolen a bag of un-dried cocoa beans and also possessing substances suspected to be marijuana, locally known as 'wee'.
Kwabena Atta, 18, and Kwadwo Father, 19, both residents of Amansie-Nkwanta near New Edubiase, were spotted sneaking out of the community with the contraband goods, and were arrested by neighbours before being handed over to the New Edubiase Police.
An eyewitness, Mr. David Okyere, who is also a former Unit Committee Member, told The Chronicle in an interview that the two suspects were caught around 10 p.m. on Friday, trying to bolt with the items packed into a sack.
He said a neighbour drew their attention to the incident, following which they confronted the suspects, who are known to be residents of the community.
Mr. Okyere said upon their arrest, seven wraps of a substance suspected to be Indian hemp in paper were retrieved from them, whilst a bag containing the un-dried cocoa beans, suspected to have been stolen, were also taken and handed over to the police.
Meanwhile, a Police CID at the New Edubiase Station, Inspector Nuhu Abdulai, who confirmed the incident to the paper during a telephone interview, said the two suspects were in the custody of the police, and were being interrogated as part of investigations.
From Issah Alhassan, Kumasi