Begoro To Celebrate Odwira(Ahwie) Festival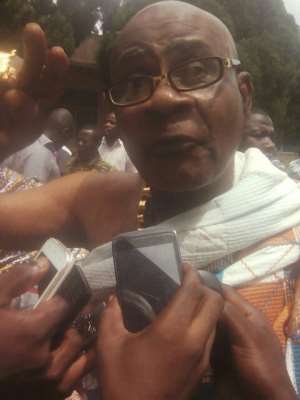 The Chief and people of Begoro in the Fanteakwa district of the Eastern Region have called on the general public to join them in the celebration of this year's Odwira(Ahwie) festival and the 30th anniversary of Begorohene.
Chief of Begoro, Daasebre Awuah Kotoko ll on behalf of his people urged ghanaians to also come and experience and learn their rich culture.
He was optimistic this year's celebration is going to be extra ordinary due to the fact that it concides with his 30th anniversary as a Chief.
He, therefore appealed to government to help repair the bad road networks within the area especially the main road to Osiem which is in deplorable state among other social amenities like portable water.
On the current disappearance of a 54 year-old Kofi Samuel from Nkankama, Daasebre Awuah Kotoko ll who is also Okyeman Benkumhene rubbished the rumour and challenged those making those allegations to prove it.
"We've been celebrating this festival for all these years without any issue like this so i wonder the source of this baseless allegations" he stated.
He appealled to Ghanaians to come and join them in the celebrations and do away with the rumour.
Meanwhile, he hinted that the President of the Republic, His Excellency John Dramani Mahama and other dignitaries have been invited to grace the occassion.