September 17, 2015
|
General News
New Irrigation Pump Launched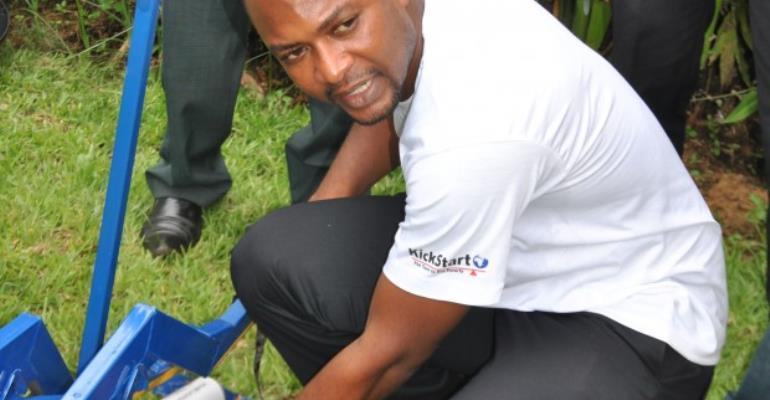 Sesi demosntrates on how pump is used
Farmers in the country have been urged to embrace modern farming techniques in order to improve their yield as well as ensure an all year round cultivation in view of the changing trends of the rainfall pattern.
The adoption of the new techniques, it has been revealed, would enable farmers reap the full benefits of their investments and mitigate the effect of the erratic rainfall pattern on their farming activities.
Northern Regional Engineer of the Ministry of Food and Agriculture (MOFA), Ing. Peter Dakudzi who gave the advice during the launch of the Money Maker Irrigation Pump revealed that the region is blessed with a lot of potentials in the agricultural sector.
He however lamented that the non availability of modern technology to tap these resources had accounted for the worsening poverty levels in the region.
The MOFA boss observed that the region had the potential of increasing its annual food production if farmers are engaged in all year round farming activity by the provision of uninterrupted water supply.
To this end, he appealed to Non Governmental Organizations (NGOs), various stakeholders in the agric sector and farmers who are interested in engaging in dry season farming, to take advantage of the new technology.
On his part, the Metropolitan Chief Executive (MCE) of Tamale Abdul Hanan Gundadow in a speech read on his behalf commended the inventors of the Money Maker Irrigation Pump indicating that its acceptance by farmers could go a long way to reduce poverty in the region.
The two-cylinder, foot operated and high performance pump was designed and manufactured by Kickstart International, a social enterprise organization with a mission to take millions out of poverty.
The Country Sales Representative of Kickstart, Sesi Dzakpasu outlined the benefits of the new irrigation equipment stating that it has the potential of increasing farm yield, irrigates crops easier and faster, useful for household and animal water needs, easy to set up and maintain without tools as well as being strong and durable.
He disclosed that over the last decade, several small scale farmers in about 20 countries in the Africa have bought into the idea of the Money Maker Irrigation Pumps and have testified to its enormous benefits and appealed to Ghanaian farmers not to be left out of this glorious opportunity.
The Country Sales Representative disclosed that Hatoum Trading Company in Ghana is the authorized dealer of the product and disclosed that clients are entitled to a one and half years warranty after purchase with parts readily available and affordable.
From Stephen Zoure, Tamale