Krif's 'Half Price Promo' Gains Momentum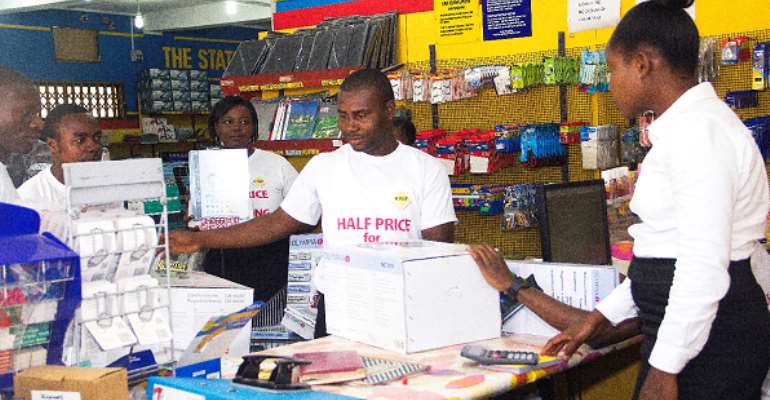 An official of Krif explains a point to clients
Krif Ghana Limited, the leading provider of office equipment and stationery, says its decision to slash the prices of products by half is yielding dividends.
Over the years, Krif Ghana Ltd has offered its customers and clients variety of promotions, and is currently slashing the prices of all their office equipment and stationery as part of efforts to reward loyalty and patronage under the '½ Price for Everything' promotion.
BUISINESS GUIDE's checks at Krif's offices in Accra revealed remarkable improvement in patronage of products on offer.
'Customers are obviously excited by the opportunity being offered by Krif Ghana to purchase genuine office equipment of their choice at half the original price,' a customer service officer said.
A patron, who is the General Manager of Cape Coast-based Progressive Women's Co-Operative Credit Union, Stanley Ofori, said the promotion had offered him the chance to acquire more office equipment for less.
'We have taken opportunity of the ½ price promotion to acquire more products from Krif. We have been buying from them for the last three years and we can vouch for the superior product quality. Another thing is that the products are not only durable but also multi-functional which saves money and space.'
Another client, Ama Fabin from the Light House Chapel International said, 'Their prices are very good and real. We have been able to acquire our long time needed office equipment because of this promotion. Their quality is also good because we have been buying from Krif over the years and have had no problems with their products.'
Awura Adjoa Okosun, Executive Director of Krif Ghana Ltd, described the'½ Price for Everything' promotion as 'extraordinary' and said Krif has been overwhelmed by the level of patronage.
Products on offer include brand new equipment from leading manufacturers and popular brands such as Olympia of Germany, Durable of Germany and Pelican also from Germany.
Others include Sharp of Japan, Techno Express of Spain and Diplomat of Korea, some of which have been producing quality products for over 170 years.'
'The items were carefully selected and they offer office solutions to today's office environment.  They are quite distinct from everyday office equipment.
These products, she emphasized, have 'multi-functions which save money,' adding 'for instance, the Diplomat security safes are both fire and burglar-proof.'
Office equipment such as multi-functional Sharp AR 203e photo-copier, which prints as well as scans and photocopies in a split second is included in the sale.
Muratec multi-functional copier with an automatic document feeder, Brother of Japan laser printers, Diplomat fire-proof security safes, Reinforced office cabinets and home and office safes, suspension file trolleys and electronic printing calculators are also available.
Also on display are office shredders which shred 40 sheets at a go, cash registers and point-of-sale machines.