'Owing Providers Is A Feature Of The NHIS' ---NHIA Boss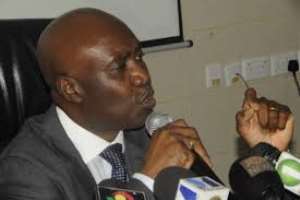 The Ag Chief Executive of National Health Insurance Authority [NHIA], Nathaniel Otoo seems to have the suggestion that it is unspeakable to owe services providers.
"Owing providers is a feature of NHIS because a provider has one month to submit their claim and we have three months to pay them. It is only when we go pass three months that the providers are challenged. I know that our providers are even magnanimous enough to take a four month time period for payment of claims but when it goes beyond four month that they get challenged
"In the NHIS a payment delay of three months is anticipated and is no news because a health care provider has a month to submit their claims and we have two months to pay. When it goes beyond two months that is where we have a challenge. Currently as I speak, I believe for quite a number for our providers we've gone two months above the three months. We are taking steps to pay, we are starting processing and paying claims for March this year which, which means we are also trying to reduce it to one month and we are making representations to get a lot more money to clear the backlog as much as possible," he stated.
The indebtedness of NHIS to service providers, according to the Acting Chief Executive is dated as far back in 2006 and 2007- they had challenges in delays which mostly can be attributed to structural and financial difficulties.
He mentioned that the authority is fixing the structural aspect whiles they are dealing with the appropriate authorities to seek enough funding to bridge the gap.
According to him, the NHIS owes closely to about GHc420miilion of claims to service providers because NHIS pay on an average monthly basis of about GHc93million in claims and GHc380million in three months.
He mentioned that the HNIS is heavily challenged with funding over the increasing subscriber base because NHIS recorded 1.35milion subscribers in 2005 with a resource of 2.5% VAT and 2.5percent SSNIT contributions.
Currently, according to him, the scheme records 10million and 500,000 people to take care off with the same brackets of funds which have not changed.
"The income sources from the specific sources are just likely below that only for claims so even the claims expenditure takes a chunk of the monies that we have. In may this year government realizing that gave us a lifeline of about GHc261million which we used to clear some of the claims," he indicated.
The Acting Chief Executive met the media to discuss the new strategy undertaken by NHIS to plug the loopholes and set the mechanisms to deal with them.
He noted that increment of premium is part of the entire structuring of the NHIS- proposals are submitted to the Ministry for review.
Meanwhile, Mr. Otoo urged that we must not peg rhythms to discourage others from joining the scheme because the predominant source of funding is the tax payer's money.