NDC sacks officials for issuing Mahama's challenger with nomination forms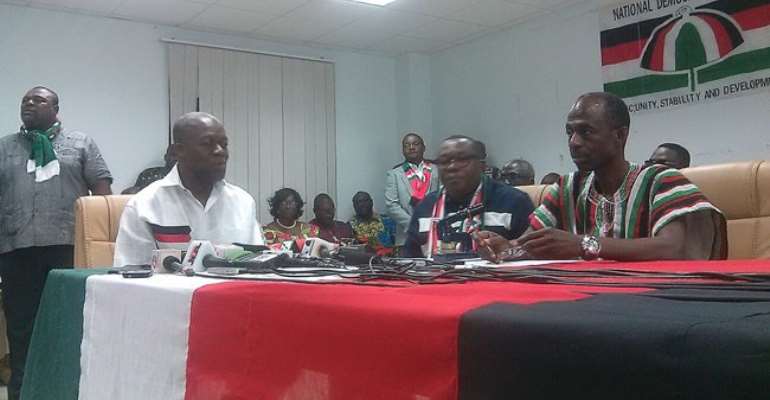 The governing National Democratic Congress (NDC) has dismissed party officials who issued presidential nomination forms to presidential aspirant, George Boateng.
General Secretary of the party, Johnson Asiedu Nketia, announced the party's decision Thursday afternoon when he presented President Mahama's nomination forms to the Vice-President, Paa Kwesi Amissah Arthur.
He said the accountant at the party's headquarters who has worked there for 20-years now, and who issued the forms to Mr. Boateng, ought to have known better.
According to the party's rules, it is only the General Secretary of the party or his assigns, who can endorse and issue presidential nomination forms.
It was, therefore unacceptable for the accountant and the other officials to facilitate the process for the polling station youth organizer of the party at Oyarifa in Accra, George Boateng to pick up the forms.
Goerge Boateng made the headlines last week after picking nomination forms at the NDC's headquarters to challenge President Mahama for the presidential nomination of the NDC for the 2016 election.
He told journalists the president had failed the country.
He made a curious proposal to legalise the cultivation and exporting of Marijuana to raise foreign exchange to fast-track the country's development.
His emergence infuriated party leaders in more ways than one.
Before today's announcement, Johnson Asiedu Nketia had promised investigations into the matter.
He said the presidential aspirant needed psychiatric examination.
A deputy General Secretary of the NDC, Koku Anyidoho, told Joy News' political correspondent, Kwakye Afreh Nuamah, the NDC is embarrassed by the development.
He said the governing party cannot have a person with the character of George Boateng challenging the president for the party's nomination.
Meanwhile the Vice-President after the nomination forms for Mr. Mahama, told journalists the president was ready for any internal contest.
He was sure the president would beat any contender to retain the NDC's presidential candidacy in next year's polls.