Techiman Royals Angry With Asante Congress Over Tuobodom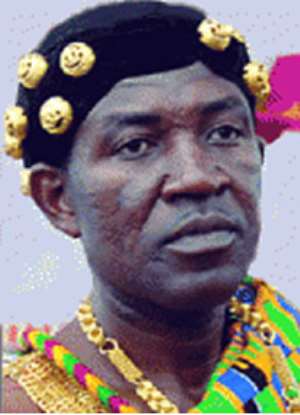 Nana Osei Kofi, the Techiman Abusuapanin, has angrily reacted to a press conference organised by the Asante Congress on the Tuobodom fracas.
Nana Osei Kofi called the bluff of the group and warned that if the group continued to treat the Techiman Omanhene, Oseadeyo Akumfi Ameyaw, with contempt, they would pay dearly.
The Asante Congress, in their press conference which was published by DAILY GUIDE on Thursday, August 27, 2015, accused the Brong-Ahafo regional police command and the Techiman municipal police commander of complicity in the killing of eight people at Tuobodom in the Techiman Municipality.
Members of the Asante Congress, made up of different Asante youth groups in the Ashanti Region, indicated that the killing of the eight people who owed allegiance to the Golden Stool, was an unforgettable and unforgivable offense committed against the Asante Kingdom.
The group also accused the Omanhene of Techiman of masterminding the killing of the eight people 'in furtherance of his intransigence and evil ambition for power.'
Otumfuo Osei Tutu ii
The Asante Congress said the Techimanhene's 'intoxication for undeserved power resulted in the creation of two rival chiefs with conflicting allegiance.'
However, in a sharp rebuttal, Nana Osei Kofi said he was highly disappointed in the group's choice of words because apart from the fact that traditionally and historically the Asantehene is the younger brother of the Techimanhene, the Techimanhene is not intoxicated for any undeserved power, adding that above all, he is not in any way connected to the trouble which led to the deaths of the eight people; neither did he mastermind any attack on the eight people who were killed.
He recalled that about seven years ago when the Techimanhene was going to Tuobodom to join the chief and people to celebrate their yam festival as tradition demanded, he and his entourage were ambushed and three of his subjects were killed. The case was reported to the police but no one was arrested.
Nana Osei noted that the Tano Subin issue has been raging on for a very long time and as such people like Mr Nuako who spoke at the press conference do not know the nitty-gritty of the issue.
Abubakari Akumfi Ameyaw, the PRO of the Techiman Traditional Council, who also spoke to DAILY GUIDE, said the Tano Subin issue cannot be settled through press conferences but levelheadedness.
He warned Mr Nuako to be circumspect in his use of words on the Techimanhene because like the Asantehene, the Techimanhene is respected by the good people of Techiman. He said even though the people of Techiman will never stoop so low to use unprintable words on the Asantehene, they will never countenance any insults on the Techimanhene.
FROM Eric Bawah, Techiman