Use Your Medium To Expose Corrupt Police Prosecutors And Investigators
....… Prisons Board Tells Journalist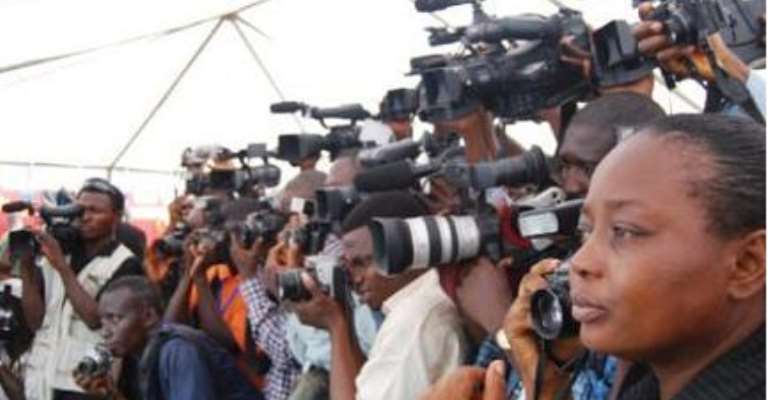 The Chairman of the Prisons Council Board, Rev Stephen Wengam has appealed to Morning Show hosts, Journalists and TV Presenters to use their various medium to expose corrupt Police investigators and prosecutors who abandoned suspects in prisons on remand.
According to the Board Chairman, he has been notified by some prison officers that most police prosecutors hardly come to the prisons to pick their suspects to court when time is due for trial. Other prosecutors go to pay monies to the court registrars who helped them postponed the dates for trial when time is due for trial for suspects on remand.
Speaking at the first ambassadorial meeting for the Prison ambassadors who comprise mostly of Journalists and morning show hosts, the Prisons Chair appealed to the ambassadors to use their medium to bring this issue to light.
"This is where we need you as ambassadors. Please help us expose these corrupt Police prosecutors and investigators so that we can help decongest our prisons. It is not only about the courts discharging the cases, but we need to prevent this habit so that the remand prisons would get justice.
The Chairman of the Prisons Council reiterated the need for Ghanaians to help improve the prisons to ensure that the service plays its reformation role effectively. "You don't know what can send you to prison", he appealed.
According to Rev Wengam, the current situation is detrimental to the human rights of the inmates as most of them live under inhumane conditions. "I want to remind Ghanaians again that this project affects everybody. You never know what can send you to prison. Mind you, if we don't help those who are there and they come out, they pose a security threat to us because sometimes the rejection and the hardship alone can drive them back to their old ways,"
At the meeting, some prison officers disclosed how they go as far as sending suspects to the courts when their times are due for trial, only to be told that the prosecutors did not come to court. "We at times write to the court clerk with a list of remand prisoners we have awaiting trial and it still does not yield any results", some of the officers disclosed.
To this the Prisons Board Chair added that exposing these corrupt officials would put an end to this attitude. He further urged the prison ambassadors to use their various medium to appeal to the public to continue to support the ongoing prison reforms. He welcomed suggestions by the ambassadors to help reform the prisons.
Rev Wengam also appealed to the ambassadors to advocate for the prisoner and the prisons officers to bring their challenges to light. He urged the ambassadors to also educate the public on the need to help integrate prisons into society after they finish serving their sentences.
"Some of these prisons are neglected by families, so when they are released they find themselves back in prison again, since they feel they are assured of friends and family. Let us help integrate them into society. Use your medium to appeal to people and corporate institutions to support us with resources to rehabilitate these prisoners, he added.
The Prison Service Council launched "Project Efiase" two months ago to appeal to Ghanaians to come to their aid and support them financially to help them achieve their aim of transforming the prisons. According to Rev. Wengam, the current situation is detrimental to the human rights of the inmates as most of them live under inhumane conditions. With a population of 15,000 prisoners and 5,000 prison officers, none of the 43 prisons in Ghana can boast of a hospital or a doctor. Currently there are 43 prisons in Ghana with only three of them built as prisons. The others were facilities converted into prisons. These, house about 79% of prisoners are convicts, 21% are on remand and 81% are below 40 years.
"The situation in our prisons is very bad. We must do something to help. Don't ever think that all of these people are there at will. It could be you," Rev Wengam added. With a ten-year development plan in place, the prisons hope to generate enough revenue to be able to address issues concerning shelter, health and feeding. The prisons service also hopes to build hospitals where inmates can access proper healthcare. Currently, the inmates survive on 1.80 cedis a day as feeding fee.
In a passionate appeal, Rev Wengam asked members of the public to donate at least 1 Ghana cedi towards the transformation of the prisons. He commended some individuals and corporate bodies who have donated generously to the project. "One of the major things we want to do is to build a hospital. If only some of the corporate institutions or religious bodies can at least adopt one prison then we can really move forward.
"I am personally appealing to everybody to support us. We have very credible people who will make sure that every penny you give will be put to good use," Reverend Wengam said. Those who would want to donate can do so through the Prisons Reform Trust; Ecobank, Ridge branch, Accra, account number: 0010084415563401.