The State Of Ebola And SEND West Africa In Sierra Leone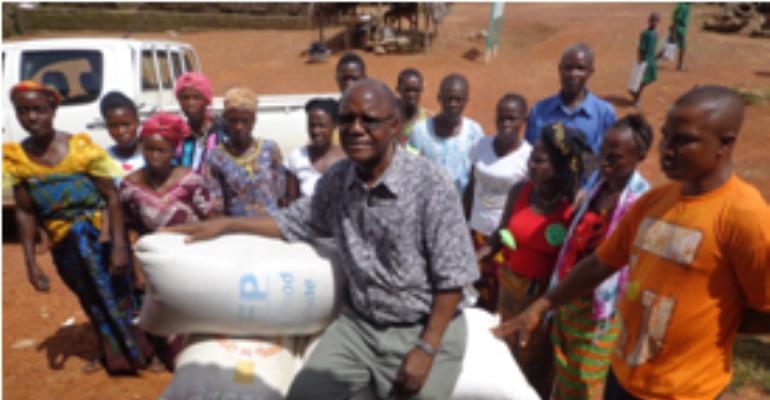 The outbreak of Ebola in West African nations of Liberia, Sierra Leone and Guinea has led to many organizations to embark on programs to provide relief and promotion of economic activities for the affected people. One such organization which is in the forefront of providing services of Ebola victims is SEND West Africa whose Chief Executive Officer is Siapha Kamara. He has given an update on the state of Ebola in Kailahum District in Sierra Leone as captured below in 2015:
Introduction
Generally, the incidence of Ebola infection in Sierra Leone is on the decline, even though there are districts in the southern provinces reporting new cases. Overall, Kailahun recorded 525 infections, 228 deaths, 202 survivors and 620 orphans. Since December 2014, it has not reported any new infections.
Throughout the epidemic, SEND Sierra Leone's Country Director, Joseph Ayamga, and our 27 staff in Kailahun have worked tirelessly to assist those affect by Ebola. We lost 40 participants in our projects. In Pendembu, 6 out of 35 women from the micro-finance group died, and in Koindu, 9 out of 35 died in just 2 days. However, I am encouraged by the fact that many of our project participants continued their activities during the crisis, and that our communities have shown compassion toward those who suffer most.
I left Sierra Leone at the onset of the Ebola epidemic and returned in May 2015. During this first visit to Kailahun District, SEND's area of operation, I spent three weeks assessing the effectiveness of our relief and recovery activities on affected families. I also consulted with staff and partners on strategies to empower communities to revive economic activities.
SEND Sierra Leone is transitioning from providing Ebola relief services to enabling communities move towards economic recovery. The micro-finance, credit union and rice value chain development of the Livelihood Program are being restructured to respond to the needs of groups most affected by Ebola. SEND has prioritized 36 communities which were quarantined in 2014 and whose people were unable to carry out economic activities, i.e.rice farming and trading.
This update is a summary of my findings and insights for the next steps and priorities of SEND Sierra Leone.
Relief service activities
August 2014, with its own resources, SEND started providing relief support to Ebola victims, especially orphans and survivors. A little later, Christian Aid and CORDAID added their support. However, since there are have been no Ebola cases since December, SEND plans to end relief services in September 2015.
Currently, SEND is assisting 42% (259 out 620) of the Ebola orphans in 36 villages bordering Liberia and Guinea. Twenty-eight (28) of the most vulnerable orphans have been adopted by 6 local foster families. In the majority of cases, the caregivers of the orphans are poor and vulnerable members of their communities. As seen in the graph, women caregivers (i.e.aunties, grandmothers and sisters) care for 60% (157 out of 259) of the Ebola orphans. Several examples illustrate the challenges of the orphans and their care givers.
Hawa, 7, and her sister, 13, andbrother15, lost their mother. She was a single parent taking care of her mother and the 3 kids. Now the children are staying with their grandmother in Dia town. The grandmother is infirm and unable to do any outdoor work to earn a living.
Another grandmother caregiver in Warima town lost 7 members of her family including her son and daughter-in-law. She is now looking after a girl, 5 and boy, 10.
A summary of the relief items given to each orphan is presented in the shaded box below. Foster families are given additional supplies whenever SEND gets new funding or items and each is given Le200,000 ($40.00) as a monthly allowance until September 2015.
Rice, oil, Maggi cubes, salt, sardines, onions, tomatoes, mattresses, cooking utensils, water storage facilities, clothes, soap and school supplies (books, pencils, math sets, erasers, water bottles, lunch bowls, etc.)
Grandmothers who were cared for by their children, are now caring for grandchildren, with no one to care for them. Similarly, young women are left alone with small children, in some cases younger siblings. Some children are just left alone with no one.
Taiwa 19 was pregnant and contracted Ebola. Her husband, mother- and father-in-law died because of the virus, but she survived and gave birth to twins.
Sarah, 22, lost both parents and is now responsible for 6 younger siblings.
Kumba, 17, survived the virus, but lost her parents – has no other family member.
Each of these girls was assisted with start-up capital of Le 1,000,000 (US$200) to establish a business tobe self-employed. For example, one has started saving with the credit union and is hoping to qualify for a larger loan in the future. Under the Back-To-School scheme,315 orphans and vulnerable children in 26 primary and junior secondary schools were provided with educational materials, including chalk, exercise books and pencils.
Economic recovery activities
The economic recovery activities benefit 732 farmers in 30 communities. Through the Seed Revolving Scheme of the Livelihood Program, 482 rice farmers retained adequate seeds from 2014 for planting in 2015. SEND purchased seed from these farmers and distributed to 250 new rice farmer beneficiaries for planting this year. Thirty-four percent (250 out of 732) of these farmers are from 17 of the communities quarantined during the Ebola crisis. In addition:
20 drying floors were constructed to support improved rice processing by farmers.
66 blacksmiths were given loans to purchase scrap materials. They manufactured 1,250 assorted tools, such as cutlasses, axes and hoes that were distributed to farmers.
Mama de Come, the micro-finance and credit unions facilitated by SEND, resumed activities. Women traders in particular are accessing micro-loans and restarting their businesses.
Strengthening health infrastructure
Under our Christian Aid and Zochonis Charitable Trust project, SEND has strengthened health infrastructure in the district in various ways:
Rehabilitated 3 Peripheral Health Units(PHU) with improved water and sanitation facilities
Provided medical equipment and logistics to 7 PHUs
Supplied two blood pressure machines to 81 Peripheral Health Units
Supported a community to build a new PHU with improved water, sanitation and solar facilities
Connected the Kailahun Government Hospital to the town water supply
Installed an internet facility with antivirus for the DHMT and two referral hospital computers
Provided motorbikes to support the District Health Management Team's (DHMT) Monitoring and Evaluation (M&E) team.
Additionally, the project has supplied a wide range of inputs to the PHUs, including medical beds, benches, admission beds, mattresses, gloves, tables and chairs. Finally, with the support of the
UN Mission for Ebola Emergency Response (UNMEER), SEND trained 35 M&E staff of the DHMT to use mobile technology to fast track health data collection and processing. The DHMT was supplied with 35 Smart phones, 4 laptops, 4 Wi-Fi dongle adapters and 20 solar lights to be used to enhance data management and utilization.
Ebola sensitization in the borderline villages
SEND will mobilize the Kailahun Women in Governance Network(KWIGN),Chiefdom Ebola Task Force, District Security Forces, community radio stations, Muslim and Christian leaders to support 32 Village Ebola Watch Committees. The Imam and Pastors will preach Ebola prevention messages to their congregations twice each month, security forces will undertake regular patrol to ensure compliance with Ebola prevention protocols and community radios will broadcast programs to educate and mobilize the citizens to remain vigilant against Ebola.
Conclusion
The immediate priority of SEND Sierra Leone is fund raising to:
Expand community-based economic and livelihood activities to create opportunities for orphans and their caregivers
revive the Women In Governance program to mobilize its extensive network and allies to champion the rights of orphans and their caregivers
collaborate with the District Health Management Team to improve health sector governance and infrastructural development
After September, provide orphaned children with support so that they can continue to go to school.
For the next six months, I plan to spend most of my time in Sierra Leone, building up our program in Kailahun and expanding our governance project to other districts. I am working with our staff and partners on grant applications to meet these needs. We also continue to raise funds through our West Africa against Ebola Campaign to which many good friends and colleagues have contributed.
Accounts So Far
UBA
Accounts No. 01421387503511 (GH₵) – balance as at 30/06/15 – 3,102.25
Accounts No. 01421387502230 (USD) – balance as at 30/06/15 – 3,134.93
ECOBANK
Account No. 0110084487301601 (GH₵) – balance as at 30/06/15 – 2,618.50
Account No. 0112064487301601 (USD) – balance as at 30/06/15 – 400.00
Contribution to West Africa against Ebola Campaign
GH₵

USD $

Staff Contributions

SEND-GHANA

5,350.16

SEND-SIERRA LEONE

1,000.00

External

Nancy Drost

400.00

Julia Smith and friends

3,043.16

Total

6,350.16

3,443.16
By Siapha Kamara, CEO, SEND West Africa
Contact: [email protected]
Some of SEND's partners in Kailahun are Christian Aid-UK, CORDAID Netherlands, All Works for Life (AWOL), Weitblick, Open Society Initiative for West Africa (OSIWA) and Welthungerhilfe (WHH).
West Africa against Ebola Campaign
Published through:
Executive Director
EANFOWORLD FOR SUSTAINABLE DEVELOPMENT
244 370345/ 0264370345/0208844791 [email protected]/[email protected]
June 2015