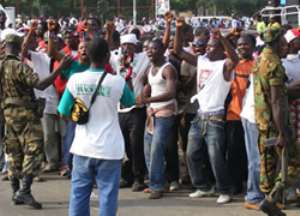 Many nations in Africa, Asia and Europe have gone through civil conflicts resulting in negative effect to them. Opposing citizens of those nations used all sorts of weapons to kill each other, destroying properties leading to some of those defeated in wars running or being pushed away from their nations. Those refugees especially from Libya, liberia, sierra Leone etc, suffered hardships in other nations where they lost their credibilities.
It all began like child's play by those involved following disagreements from results of elections, hatred for leaders and attempts by others to break away from sovereign nations. GHANA after the 7th December polls may be treading on dangerous grounds.
After the Electoral Commission declared results of the December 7 polls which had the two main political parties NPP AND NDC sharing almost equal number of seats in parliament with Nana Addo being declared winner of the presidential polls, hell broke loose.
The NDC leadership and former President John MAHAMA complained of errors in the polls and rejected the result of the polls in some constituencies with some NDC members saying that the president-elect NANA ADDO who has been acclaimed and gazzetted was not a winner of the poll.
A large number of NDC members have since been embarking on nationwide demonstrations throughout the nation to drum home their desire for THE EC to rectify what they term mistakes it has made against them. Some of the demonstrators have got injured with a number of them dying as a result.
Although they are being advised to seek redress of their grienvances in court they are yet to do so. In a 'tit for tat' fashion the governing NPP has also begun reacting to the actions of the NDC. They have held a press conference to say that the presidency was won by Nana ADDO as declared by the EC giving their number of MPs in Parliament.
They went ahead to express their intention go to court to seek the reversal of election VERDICTS in seven constituencies in their favor. As the NDC is making efforts to deny Mr Peter Amewu his right to occupy his seat in Parliament as representative of Hohoe constituency, through Court rulling, the NPP on their part are also accusing an MP elect of NDC at Assin north James Quayson of being a dual citizen of Canada and GHANA.
However the NDC has debunked this saying that he has renounced his canadian citizenship. Even though the president elect is due to be sworn in Parliament on January 7th it's our prayer that arguments and accusations between NDC and NDC together with the daily demonstrations would be toned down to give way for peaceful work in the presidency and Parliament which are required to collaborate for peaceful development of the nation.
Currently both NDC and NPP must know that the covid-19 pandemic has affected us to the extent that our economy has been affected. This was followed by the events leading to the just ended polls which has also taken a toll on the nation's economy with many government's organizations hit hard economically.
Let's also remember that as a result of the pandemic the education of our children has been hit hard as most students were sent home to study on line till January 2021. Our markets accross the nation have got burnt with huge financial effect on many market men and women and the government.
As a result of these, it's important for all the fewding factions to reconsider their positions by coming together to solve problems confronting the nation. If we fail to heed the advice to stop the violent confrontations our reputation as a peaceful nation will suffer with the fear of many investors deciding to move away from Ghana.
According to Omar Bangoura from Sierra Leone, Ghanaians must be wary of attemps by our leaders to divide us through daily demonstrations and fighting.
He recalled the 11-year war in Sierra Leone which begun with demonstrations to serious conflicts. He recalled the brutal wars in central AFRICA Republic, Bosnia, South Sudan and Rwanda which cost those nations dearly till date. He says his heart bleeds over what is happening in Ghana saying that the NDC and NPP, Muslims and Christians would be the losers when serious war breaks up.
He said we should stand as one and united to get Ghana to remain a peaceful nation. The accounts of war in many countries in Africa and parts of the world must be seen as a lesson to us. Our political parties signed a pact to promote peace before, during and after the polls on December 7.
The peace council, Traditional Rulers and our religious bodies are In support of this move. In order for Ghana to be peaceful after the 7th December polls as happened in the last seven polls in the 4th republic let's halt all hostilities and use the more acceptable means to seek redress for our electoral grievances.
Since the NDC has agreed to seek justice in the supreme court ever efforts must be made to get the EC to rectify mistakes it has made if any to ensure amicable settlement of the electoral issues involved. Long live Ghana. We should remain one of the most paceful nations of the world.. Long live Ghana, We pray for peace now and the years to come By Alhaji Alhasan Abdulai
EANFOWORLD for Sustainable Development, P O Box 17070 Accra North