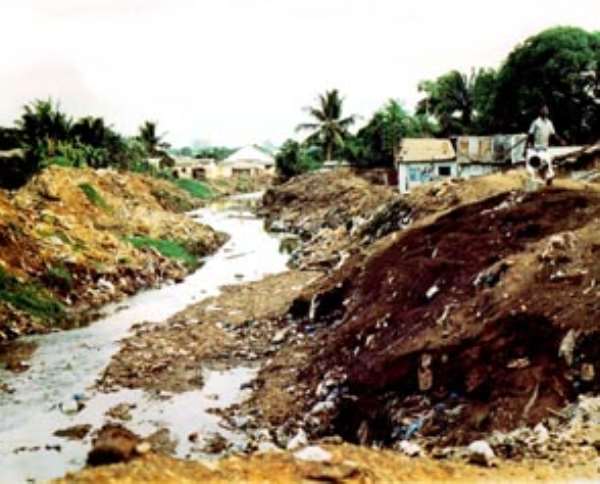 The Director of Urban, Environment and Sanitation Project under the Ministry of Local Government and Rural Development, Mr Godrey Ewool, has stated that the continuous use of the Odaw River as a refuse dump and a place of convenience is threatening its survival.
He said unless people living along the river desisted from dumping rubbish into the drains, the river may not fully recover to serve its purpose.Mr Ewool said the rubbish thrown into the drains indiscriminately, ended up in the river, thereby becoming heavily choked with refuse. He said other people were also using it as a place of convenience, worsening the situation.
Mr Ewool said this in an interview in reaction to queries on the status of the Odaw River in respect of the on-going restoration programme.The project, which began some three years ago, was meant to prevent flooding by building walls around the river to allow flood waters to move fast into the sea whenever there were torrential rains.
Although the first phase of the project, from Abossey Okai, through the Graphic Road to the Alajo bridge, have been completed, the dumping of refuse in the river seems to have defeated the purpose.The surroundings of the river stinks forcing people who go near it to cover their noses.
Mr Ewool said an amount of ¢4.5 billion was use in dredging the river two years ago but the situation had even become worse since then.He said the Accra Metropolitan Assembly (AMA) would have to spend close to that amount every month to keep the river clean and wondered the effect such an expenditure would have on the resources of the assembly in terms of project execution.
Mr Ewool said the situation was worrying but would only require the public to be more conscious about the way they disposed of their refuse.The AMA has complained that more than 80 per cent of residents in the city did not pay for refuse collection.
It is on record that such people also find various means of disposing their refuse, most of which end up in the Odaw.He denied that the situation of the Odaw was a result of the project coming to a halt.Mr Ewool said the first phase had been completed and the second and third phases were being undertaken by two different companies — Sonitra and Interberton.
He said should the two phases be completed, it would have nothing to do with the cleanliness of the river. Mr Ewool said the major cause of the filth in the river was the behaviour of residents and reiterated his call for people to desist from such a practice.