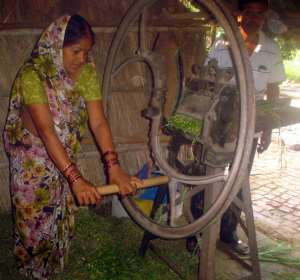 Kalawati comes from a family of small farmers. Hers is a 'joint and happy family' where she lives with her husband, 1 daughter, 2 sons, 1 daughter-in-law and 1 granddaughter. Her postgraduate sons working outside the village are doing fairly well and have helped her construct their own house in the village. Kalawati has been into farming for the last 30-35 years since her early childhood.
HER WORK AND ACHIEVEMENTS
Besides tending to her crops and doing all the labour intensive work (like sowing/growing of vegetables, mustard, gram wheat, paddy, sugarcane, and cutting of sugarcane), she also tends to her cows and buffalos, with very little help from her husband. While the grains she grows are consumed in the family, she is able to earn money through sale of buffalo milk.
Kalawati concedes that there is a lot of difference in today's farming as compared to earlier days. Earlier there was no proper arrangement of manure and watering the crops. Now things have improved drastically. With better availability of manure and water and improved farming techniques, the crop yield has increased.
Kalawati is an elected member of the panchayat (village council) and also an active member of Aaroh Mahila Kisaan Manch ('Aaroh' is a campaign for rights and recognition of women farmers in Uttar Pradesh supported by Oxfam India), where all women farmer members work together to improve their farming skills. She has been part of this Manch since the last 10 years. She loves to take part in their meetings and rallies and raise slogans like (we the women of India are sparks and not flowers). Other women labourers/ farmers look upon her as a sort of leader. If there is some work involving farm labour - like sugarcane cutting - women workers contact her because of her ability to negotiate for better prices. Then she arranges for a group of women to do that work and distributes the money as wages among them.
Realizing their utility for poor women, Kalawati has formed a women's self-help group (SHG). According to her, "SHGs are really very helpful for women like us. I remember once in the early days, I borrowed INR 500 from someone, as a friend of mine was in need of money. I was told to return the money in 10 days and also had to work in their fields to cut paddy (for which I did get paid). This happened with many of us. So I started a group with 7 members. Currently we have 14 members and each member contributes INR 50 every month. The group is now 4 years and 8 months old and today we have INR 35,000 in the bank, which is a big boon for all of us in times of need. We can get loan from the bank at low rate of interest. This money we can spend on farming related expenditure—manure, irrigation and seeds; or for buying livestock; or to meet some emergency expenditure. I took loan of INR 10,000 to get a linter for the roof of my house. One member took INR 6000 for house repairs, while another borrowed INR 10,000 for a wedding in her family, and both returned the money with interest. There has never been any default payment till now. Every month we hold a meeting where we make a resolution, go to the bank, withdraw the money and then give it to the woman member who had asked for a loan. I am running this group myself. In case of a problem we go to the block level".
Kalawati is not aware of any government scheme for the benefit of small farmers like her. According to her, it is the big farmers who avail of all the benefits. "I have never got the benefit of government schemes. We do not even come to know when seeds and manure come for distribution, as whenever we go and ask for them we are always told that the stock is over. The last time it happened was in September 2014, when people from the agriculture department had come and distributed it. I am not aware that harijans (scheduled castes) like us are also eligible to get anything from the government. Nothing is free for us. Of course things are much cheaper if bought from the cooperative society but that is not for us. We buy whatever little we can from the private market".
Kalawati says that one has to pay bribes to get even a labourer's job at INR 100 per day in the village, and that too after much difficulty. She is also skeptical about other government facilities for the poor. Even though she is entitled to get medical facilities at subsidized rates in the hospital, when her daughter was sick and admitted in the hospital, she spent around INR 15000 but was reimbursed only INR 6000.
WOMEN FARMERS
Women farmers, like Kalawati, labour hard, but there is very little recognition of their work. "Our menfolk do not even lift a glass of water and expect us to do all household chores besides labouring in the fields. Now there is a slight change in their attitude as we have started demanding some care from them."
Kalawati feels very bad that even though women do a lot of farming work, they are not recognized as farmers—the word farmer still implies men only. The biggest problem of women farmers is that their workload is twofold—they have to do domestic work as well as work in the fields. They have to manage family and farming both.
LAND OWNERSHIP
"There is one and a half bigha of land, which is in my husband's name. Earlier it belonged to his father and after his death it came to my husband. There is no land in my name. We too have our rights, but when we ask for them we are sweet talked and blackmailed emotionally—the husband would say everything belongs to you only. There must be legal papers to prove our ownership too".
WOMEN'S EDUCATION, MARRIAGE AND FAMILY PLANNING
Kalawati is strongly for girls' education and has no intentions of getting her daughter, studying in class 12, married till she is educated properly. She says that, "Earlier the emphasis was on training daughters for household work like cooking, cleaning etc. but now there has been a lot of awareness and people do send their daughters to schools". Kalawati also believes in a small family. "One should not have more than two kids. Given the high rate of inflation, if people have more kids they will not be able to bring them up properly."
TODAY AND YESTERDAY
Kalawati has seen a sea change in her 42 years of life. There is a huge difference in the Kalawati of today and yesteryears. Her thinking has changed and her outlook has broadened. Her economic condition too has improved drastically.
"Even though I do not have enough land to grow crops to sell in the market, there is at least enough food in the family for all. I also earn by working on other people's farms and by selling milk. Our economic condition has improved a lot. Earlier there was never enough food to eat in the house and we would rarely sleep on a full stomach. But now the whole family gets to eat a balanced meal—lentils, rice, roti and vegetables. We are also able to indulge in some luxuries like using toiletries of soap and shampoo that were but a dream earlier—when we would make do with mud to clean our hands and body. I am also able to afford to have a few decent sarees in my wardrobe."
Today, other women of her village take inspiration from Kalawati. They have seen her grow from nobody — who did not have enough for two square meals a day — to somebody of substance by way of money and womanpower. Kalawati always had that desire in her to move ahead in life and do things differently. Today she is recognized as a woman leader. If she could do it, others can too by sheer dint of hard work and the desire to succeed in life.
"I believe in self-help. Women are very laborious and industrious but they perhaps lack in self-confidence and hence are diffident to move ahead and become self-reliant. They feel intimidated by their husbands and refuse to join the work force, even though they internally wish to. I encourage them to work outside their homes to improve their financial and social status".
Shobha Shukla, Citizen News Service - CNS
(This article is part of a soon-to-be-released Oxfam India publication: "The Leader Lies In You - Success stories of women farmers in UP")