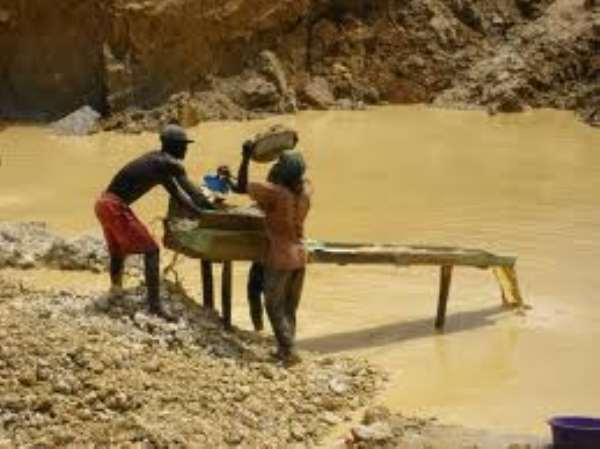 The Chiefs and people of Akyem Abuakwa were subjected to yet another insult by President John Dramani Mahama on Wednesday, 17th June, 2015 when in his attempt to win political advantage of Okyeman gave a rather lame duck of an apology while inspecting a road construction being undertaken by the government.
It would be recalled that in March, 2014 President Mahama looked in the eyes of Okyeman and his people and tagged the Royal Kingdom as the "Headquarters of Galamssey".
At the time, the president was asked to retract and apologize. He refused with disdain.
Across many regions of this country, illegal mining activities continue to "flourish" years ago. Security agencies including the police and military have been deployed to help curb the menace without much success.
As the President, Head of state and Commander of the Ghana Armed forces, one would have expected to him to take up his responsibility to bring this canker to a halt, not just in Kyebi and Okyeman but every part of the country where unscrupulous persons continues to subject the land and sacred water bodies to such wanton degradation.
The difficulties in arresting the perpetrators to curb the adverse effects of illegal gold mining in Kyebi and other parts of the country is a very worrying spectacle.
Many of the illegal miners are not indigenes of the areas they pry their trade. There have been reported cases of foreigners including Chinese using sophisticated and heavy earth moving equipment for their nefarious activities. Some of these miners, may have armed guards wielding guns and other ammunition.
The Chiefs and people have no arresting and prosecutorial rights. The state security agents, who are clothed with the constitutional mandate and laws, headed by the President of Ghana, John Dramani Mahama look on with indignation and run to insult the very people whose lives they are paid by the tax payer to protect.
The mandate of every President worth his sort is to protect his people from external and internal aggression and attacks. President Mahama rather than emulating others, uses every opportunity to complain, pass the buck or play the blame game. Running away from his own shadows and throwing out to the dogs the responsibilities he had sworn an oath to perform.
The river Birim, hitherto the pride of Okyeman is a worry sight to behold today. The people of Kyebi and its environs whose main source of water, the Birim River are exposed to constant and extreme pollution and health risks.
It is ironical, that President Mahama is quick to subject Akan speaking people in general and Okyeman in particular to unprovoked insults.
An apology which is pregnant with an excuses and ascribed reasons is an insult and effrontery to the aggrieved. Tell JDM to swallow his hypocritical apologies.
Okyeman is too smart for such a stunt. An apology is only worth acceptance when it's made devoid of any excuses and explanations. An unqualified apology would suffice.
The excuse that he does not understand twi and therefore may have misjudged his unguarded statement about Kyebi being the headquarters of Galamsey makes mockery of his presidency.
Neither "Headquarters" nor Galamsey are twi words. Wherein lies the honesty of a shameless apology.
The president was not honest with his apology. This had been demanded of him by many well-meaning citizens of this country when he first made it. In his attempt to lure Okyeman to vote for him in 2016, he has rather blown his own cover.
Okyeman will remain resolute behind Nana Addo Dankwah Akufo Addo and the NPP forever.
President Mahama should go tell his tales to the marines. We have lived with the insults of President Mahama for all these years, nothing has changed. His "apology" only goes to add more pains to us.
We wait patiently for the 2016 elections. Like many other Akan speaking Ghanaians and other ethnic groups across the country, the people of Okyeman will not disappoint Nana Akufo Addo and the NPP this time around in the 2016 elections.
We have lived with this shameful descriptions from the presidency for over years. The indignation has been too much to bear. The Akyems and other Akan speaking people have been made to suffer unprovoked attacks and insults by President Mahama and his NDC appointees and communicators.
In May, 2015, President John Dramani Mahama attacked Asanteman by stating that the indigenes of the Ashanti Region are not appreciative of "efforts" made by the National Democratic Congress (NDC) administration, to bring development projects (sic) to Ghana and in particular the Ashanti Region. He stated that even "If we build roads with gold, Ashantis won't appreciate"
When the King, Osagyefo Amoatia Ofori Panin together with his chiefs and people staged a demonstration to register their protest about the slow pace of construction on the Nsawam to Apedwa junction corridor of the main Accra – Kuamsi high way, President Mahama refused to send any official to Okyeman.
Paradoxically, at the same time, a delegation from the Presidency was sent to the Chiefs of Volta region.
The Chiefs and people of the Volta region deserve every attention received from the presidency and more. We have no resentment about that.
The President must also be reminded of the provisions of the 1992 Constitution Chapter 5, on the Fundamental Human Rights of every citizen of Ghana and also urged to treat us all with some equal modicum of respect.
Governments are elected to provide leadership and develop their countries. The life of citizens must show improvement.
It is very obvious without any equivocation of doubt that since President John Mahama took up the mantle of leadership, the needs of the Ghanaian across the nation and in our community have worsened.
A cursory analysis of the situation in which we find ourselves is extremely debilitating. Every aspect of the life of the Ghanaian is getting worse by the day.
From economy, to health, education, energy, petroleum, infrastructure, security, industry, labor and employment etc, everything has been reduced to rubble.
Filth and chocked gutters are virtually swallowing our cities. Metropolitan and Municipal Assemblies blame everyone but themselves. Knee jerk solutions are given to long term planning and implementation. Avoidable deaths are recorded in the least down pour of rain.
The citizenry are put in fear and hopelessness when the cloud gather in the sky. They have no one to turn to. Leadership paralysis has engulf this nation.
There is a need for change, a change we need in 2016. A change for the betterment of each and every Ghanaian. Change for an effective and efficient leader to help salvage the country from further obliteration.
A change for the leadership of Nana Addo Dankwah Akufo Addo and the New Patriotic Party.
Many Ghanaians who may have voted for JDM are gnashing their teeth. Regret and despondency, anger and hopelessness are clearly written in the faces of many Ghanaians.
Constant increment in the prices of fuel have been too difficult for the Ghanaian to bear. The country's currency is racing with the speed of light with other international currencies. Corruption, nepotism and poor management of the country's resources have created hardships in the country
​.
It will be much better if the President can spare us further pain and refrain from constantly reminding us of the mistake we made by giving him our mandate.
We need a responsible president, who will not play on the emotional cords of the people, a president who will appreciate his responsibilities, and a president whose attitude and utterances will give hope to the people.
Nana Addo Dankwah Akufo Addo is poised to take up the mantle of leadership of this country after the 2016 election.
He will provide quality leadership to ameliorate the numerous challenges facing our citizenry. Let all rally behind the man of peace and vision in 2016.
Ghana deserves better than we are being served on the table. Many other countries we started our nationhood journey with have left us far into advancement and development.
It is a shame that in spite of our huge potential and resources, President Mahama's leadership continue to disappoint many a Ghanaian.
Please tell President Mahama – Is "Headquarters" and "Galamsey" an Akan word?
He should therefore swallow his unsolicited and hypocritical "apology" or go tell the marines
Fred Amankwah – Sarfo
[email protected] .
(0544331324)