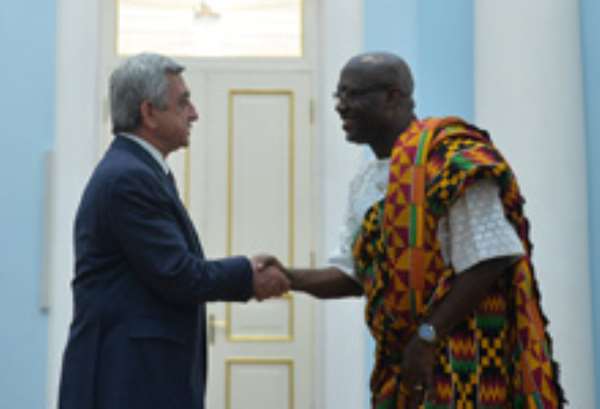 On June 9, Dr. Kodzo Kpoku Alabo, the newly appointed Ambassador Extraordinary and Plenipotentiary of the Republic of Ghana to the Republic of Armenia, presented his credentials to President Serzh Sargsyan.
The ceremony took place in Yerevan, capital of Armenia.
According to the official press release, President Sargsyan congratulated the ambassador on his appointment and wished him success, noting that Armenia attaches importance to promoting political dialogue and contact with African countries, including Ghana.
The media release stated that "Ambassador Alabo conveyed the Ghanaian president's gratitude to the RA president for the condolence letter on the recent terrific explosion in Accra which took multiple lives and for symphonizing and being with the Ghanaian people during these tragic times."
The ambassador noted that during all of his tenure, he will work, with sincere devotion, towards strengthening the relationship between Armenia and Ghana and revealing the full potential for multifaceted collaboration.
They agreed during the ceremony to maintain close contacts, conduct consultations between the foreign ministries and develop a legal framework, the two countries will provide a firm foundation for cooperation in the areas of, inter alia, education, culture and economy.
President Serzh Sargsyan and Ambassador Alabo expressed their satisfaction with the level of mutual cooperation within the frames of international organizations.
Dr. Kodzo Kpoku Alabo, Ambassador Extraordinary and Plenipotentiary of the Republic of Ghana, is resident in Moscow.