Hajj Secretariat Outlines Plans For 2015 Pilgrimage
... As Fares Remain Unchanged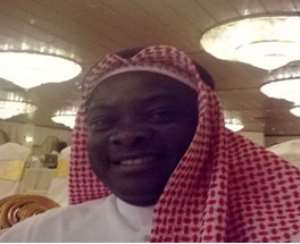 The National Hajj Secretariat has announced its preparedness towards the 2015 Hajj Operations to enable interested pilgrims prepare for this year's hajj.
The fare, according to the chairman Hon. Alhaji Abdul RaufTanko Ibrahim, remains US$3,450 and that those paying in Ghana Cedis would pay an amount of GH¢11,900.00 at a special rate.
Ghana, he said, has a quota of 5,424 pilgrims for this year, while the total number of hajj officials including medical team, logistics and administration officers would be 65.
According to him, NAS Airlines of Saudi Arabia has been contracted by the Secretariat to fly Ghana's pilgrims to and from the Hajj.
He indicated that the first flight would leave Accra on September 5th 2015 with total of 450 pilgrims per flight.
The last flight, he said, would depart on September 16th 2015, adding that the first return flight from Jedda to Accra would be on October 8th 2015.
The secretariat has meanwhile secured 5,800 comfortable and convenient sleeping places for this year's pilgrims.
The accommodation, according to him, is for one month in Mecca, three days in Madina and three days in Mina.
The Chairman explained that the National Hajj Secretariat would be responsible for the feeding of pilgrims in Mina and Arafat ONLY, which would be for three days.
The pilgrims, he said, besides this would take care of their own feeding in Mecca and Madina.
According to him, the secretariat has concluded all arrangements for the orderly movement and transportation of pilgrims, including airport pick-up within the Kingdom of Saudi Arabia,.
"Like previous years, we have also made adequate security, medical and logistics support service arrangements to ensure the safety, security and comfort of pilgrims in the Kingdom of Saudi Arabia," he noted.
He called on prospective pilgrims to take note that each pilgrim would be entitled to two pieces of luggage ONLY each weighing a maximum of 23 kilo and one hand luggage weighing not more than 10 kilos.
This, he said, is part of the secretariat's effort to bring an end to challenges related to luggage, which has been a problem in the past years.
He stressed that the secretariat is therefore introducing a Universal Bagging System like other countries this year.
He added that each pilgrim would be supplied with three bags and a waist bag at a discounted rate.
"The secretariat wishes to announce to all prospective pilgrims that it will make available to each pilgrim on arrival back in Accra, a gallon of Zamzam water" he stated.
He therefore advised pilgrims not to purchase Zamzam water in the Kingdom of Saudi Arabia to avoid rejection by airline authorities at the boarding gate.
The Chairman encouraged all prospective pilgrims to conclude their payments and other preparations early with the approved Hajj agents.