Teacher Trainees Defend Sacking Ministers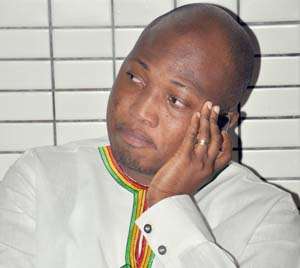 Leadership of the country's teacher trainees has justified the recent action against some government officials – the hooting at Deputy Education Minister, Samuel Okudzeto Ablakwa and his other colleague deputy ministers.
Teacher trainees from some colleges of education in the Ashanti Region last week did not only boycott a scheduled programme with Mr Samuel Okudzeto Ablakwa; the Deputy Minister of Communications, Felix Kwakye Ofosu and three other government officials, but also hooted at them to drive them away from the venue of the programme.
But President of the Teacher Training Association of Ghana (TTAG), Daniel Kofi Osei, has insisted that their action was justified and that 'What happened was only a natural expression of the general feeling of helplessness, resentment, disenchantment and desperation of teacher trainees due to government's actions and inactions.'
He asserted at a press conference in Accra yesterday, 'We want to clearly indicate as well that what happened at the event was only but a natural and genuine expression of spontaneity of general helplessness, indignation, desolation and desperation of teacher trainees, and not a politically orchestrated action as alleged.'
According to him, theirs is a non-partisan students' movement and would continue to remain so.
They have therefore resolved, 'We cannot and will not allow our ranks to be infiltrated by partisan politicians who are only moved by parochial considerations, even at the detriment of the nation.'
They equally expressed disappointment in government's decision to scrap their allowances saying, 'As we speak, we are yet to receive an official reply to a petition to his (the Minister of Education) outfit on 19 March, 2015 regarding this contentious matter and the imperative need for its immediate reinstatement.'
'It is fact that in view of the cancellation of our allowances, teacher trainees in the country are going through an unprecedented excruciating hardship in meeting their financial obligations at the various colleges of education,' Mr Daniel Kofi Osei stated.
Aside the huge fees they pay each semester, ranging from GH¢1,200 to GH¢1,500, he revealed, 'We also have to cater for teaching and learning materials for our on-campus teaching practice and other resources needed for our courses which require humongous financial commitments.'
He underscored, 'Currently, second years are preparing to go on out-segment. They are expected to pay for their own accommodation, feeding, utilities, teaching and learning materials and pay other statutory college fees within this period. This weighty financial nightmare is not only frustrating, but has left many of us helpless and highly uncertain of our ability to complete our training.'
They have since given government a two-week ultimatum to spell out the mechanism put in place to sustain them during their out-segment assignment.
On the issue of government's decision to make students at public tertiary institutions pay water and electricity bills, the teacher trainees have also served notice that 'Students of colleges of education cannot and will not pay for utility bills and shall resist any attempt by government to compel us to do so.'
By Charles Takyi-Boadu & Angela Dzidzornu
Caption: Daniel Kofi Osei (middle) and other executives at the conference