Apostle Dr. Safo Kantanka Outdoors 30 Cars: Government Support Needed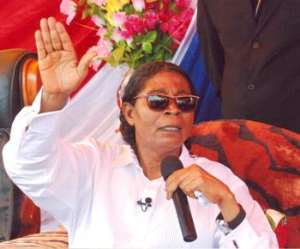 Apostle Safo the genius, inventor and the star of Africa has broken new grounds! He has recently out-doored 30 land cruisers to the amazement of every Ghanaian. Indeed he has made several inventions including brick making machines that can make a thousand blocks within minutes, a television set that closes by a mere wave of the hand and opens by a clap of the hands and many more inventions. However, this article will mainly concentrate on his car manufacturing project.
It has always been the vision and ambition of the Apostle to acquire parts from the Chinese to build a vehicle Assembly plant. The Chinese refused to sell them to the Apostle for fear of stiff competition. All the cars he made some years ago were mainly for exhibition purposes until May 2014 when the Apostle SafoSuaye Technology Research Centre (ASSTRC) was able to build a local automobile assembly plant. All the machines and equipment which would be used for moulding the vehicles were ready and installation was finally completed in January 2015. The manufacturing plant was ready for action!
The ASSTRC was able to manufacture thirty cars from the newly installed Assembly plant. In the long term he intends to penetrate the Automobile industry with solar powered cars and trains. He is very much aware that it is not easy to penetrate an industry dominated by countries like U.S.A, Japan, Germany, United Kingdom, France and Korea.
On the local market, ASSTRC has set itself a target to produce forty cars a month or four hundred and eighty cars a year. The assembly plant is built at GomoaMpota in the Central region where the production of various types of Kantanka vehicles will be made in two years time. ASSTRC made sure workers were trained to use the plant effectively to begin production of Kantanka brand of vehicles in 2015.
In order to instill confidence among drivers and the entire Ghanaian population, Apostle Dr.SafoKantanka donated two Kantanka vehicles to the Police service to try them and confirm their efficiency. When the thirty cars were out-doored, a very selfish, unpatriotic and jealous engineering lecturer came out to discredit Apostle Safo's ingenuity. He branded the production of the cars as re-engineering and they are nothing to write home about. This is a silly, shameful and an unfortunate remark by an engineer who has never in his engineering profession invented anything for the benefit of Ghananaians.
This is plain jealousy! The Apostle has no university education, not to talk of an engineering degree. If such a man has been able to manufacture cars, even if it is re-engineering, with massive support from both our engineers and the government, it will not be long before Ghana will be considered as a car manufacturing country. The Apostle needs our support not condemnation. Has this lecturer forgotten that every year students of KNUST go to ASSTRC for internship to learn from the Apostle?
The Apostle has constantly appealed to the government to intervene to waive the duty on the equipment but no one heeded to his sincere appeal. He is convinced that support from the government would enable ASSTRC to help more youth including university students and graduates who had been making use of the centre for practical training to realize their potentials in life.
The Member of Parliament for Mpraeso, Hon. Seth Acheampong, has also expressed concern about lack of government support for Apostle Dr.SafoKantanka's technological effort. He appealed to the government to give top priority to the technological innovations of the Apostle. The question is, will the government ever see the Apostle as a great gift for Ghana?
Despite the government's reluctance to support him, Apostle Dr.SafoKantanka is not perturbed. He has extended a magnanimous hand to five hundred and fifty students from universities, polytechnics and senior high schools in the country.
In fact, the manufacturing of Kantanka cars in commercial quantities has come to crown all his technological endeavours. The genius with no university background, Apostle Dr SafoKantanka said when he out-doored the thirty cars that, it has never been his intention to seek reward for his initiatives, but his major intention is to help fellow Ghanaians and Africans as a whole and also to prove to the world that the black man is capable of manufacturing technological equipment, robots, cars, machines and many more.
The Asian tigers started this way and we all bear witness to where they are now. When they began experimenting with technology, many countries including Ghana mocked at their attempts to manufacture cars. When I was a in the Secondary school, I heard a joke by certain Ghanaians that the first cars that were out-doored by Korea only moved backwards. Assuming this Ghanaian joke was true, today do the Korean cars only move backwards? If the government and all Ghanaians will encourage, motivate and support Apostle Dr.SafoKantanka, his technological innovations will see much improvement and he will not only continue to be the star of Africa but an icon of Ghana.
Apart from his inventions, Apostle Dr.SafoKantanka is also a philanthropist par excellence. He is also the leader of KristoAsafo Mission, and since 1971, has embarked on the largest philanthropic campaign in Ghana, by making huge donations in cash and kind to orphanages, educational institutions from cr'che to universities, prisons, hospitals and many needy institutions. Even as he pursues his capital intensive philanthropic dreams, he still has money left to go ahead with his technological innovations.
In an exhibition, he lined up all the equipment and vehicles he had manufactured for the public to see. These include block-moulding machines, Kantanka brand of vehicles, cranes, excavators, televisions and stabilizers. You may go to youtube.com and watch all these productions on video. The star of Africa has really made Ghana proud.
It will be extremely important for journalists from the various media houses including newspapers, television and FM stations to visit on regular basis Apostle Safo's technology centre and report on the great things being undertaken by the Apostle. The government's attention must be drawn to the importance of fully supporting the icon of Ghana and the star of Africa.
Stephen Atta Owusu
Author: Dark Faces at Crossroads
Email: [email protected]