Deficit Of Ideas, Economic Mismanagement Led Ghana To Imf, Says Akufo-addo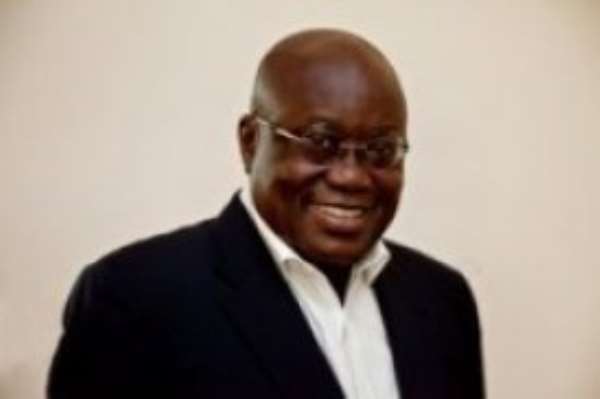 The 2016 Presidential Candidate of the New Patriotic Party, Nana Addo Dankwa Akufo-Addo says the decision by the Mahama-led National Democratic Congress government to go for a bailout from the IMF 'is as a result of the deficit of ideas in solving problems like dumsor, coupled with the mismanagement of the economy and a lack of fiscal discipline.'
Delivering a brief address to a packed hall of students of the University of Cape Coast, at a meeting of the Tertiary Students Confederacy (TESCON), on Saturday, April 18, 2015, Nana Addo stated that the whole world is at a loss as to how 'for the first time in history, an oil rich country, some five years into oil production, is seeking a bailout from the IMF.'
According to the NPP flagbearer, this NDC government has received more money in loans, tax revenues and export receipts than any other government in our history, but has surprisingly ended up with Ghana going cap-in-hand to the IMF for assistance.
'This sad spectacle is an indictment on the kind of leadership we have at the helm of affairs in our country,' he emphasized.
He recounted how the NPP, under the leadership of President Kufuor, showed in 8 years that fiscal discipline was possible, and this resulted in the NPP government committing the nation's resources into areas that improved the lives of Ghanaians.
'We need to bring back confidence in the economy so that businesses and families can plan their budgets properly. What an Akufo-Addo government will do again is to bring back that confidence,' he said, to a rousing applause from the audience.
An Akufo-Addo government in 2017, God-willing and the people of Ghana consenting, he said, 6+will ensure fiscal discipline on how taxpayers' monies are spent and ensure macroeconomic stability.
'Investors, domestic and foreign, will only be interested in Ghana when they can be assured of the bankability of investing in our economy,' he said.
He continued, 'We will move away from high budget deficits and reckless borrowing because we know of the benefits of fiscal responsibility - low inflation, reduced interest rates, exchange rate stability, avoiding HIPC and making savings for social and capital expenditure.'