After Boko Haram raid, fear and ashes in Chadian village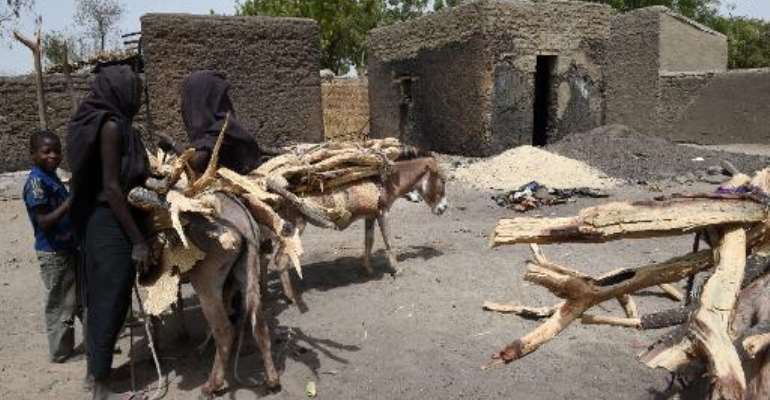 Ngouboua (Chad) (AFP) - Almost two months after Boko Haram raided and pillaged her village in Chad, mother of seven Zara Isenik still lives in constant terror.
At the slightest strange noise, she says, she "runs to hide in the bush".
The cross-border raid by the ruthless Nigerian Islamists left mental and visible physical scars on a Lake Chad village that had previously been so peaceful that Nigerians fleeing Boko Haram used to come to seek sanctuary.
Many houses torched by the militants in Ngouboua have yet to be repaired. Livelihoods were ruined and fear reigns.
In the early hours of February 12, jihadist militants crossed Lake Chad by boat under cover of darkness and torched the village of 6,000 people in a brutal onslaught.
Isenik and her children were asleep, while her husband -- a Chadian army soldier -- was on the frontlines fighting Boko Haram on Niger's frontier with Nigeria.
"They arrived at around 4:00 am (0200 GMT). We heard gunfire ringing out in the night and we understood," Isenik said in a soft voice, squatting with her back against the wall of her torched home.
As she fled, she says she crossed paths with a group of armed men who were "very young and were dressed in black" and carried Kalashnikovs. But they let her go and after just two hours, the assault was over.
"Everything was burnt. The TV, my clothes, my jewellery, the sacks of corn I was supposed to sell on the market, and three million CFA francs ($5,000 or 4,500 euros) in cash -- all our savings," she said.
The Boko Haram militants kicked off their raid by attacking a military post located at Ngouboua's entrance.
Chadian forces, backed by military aircraft, returned fire, routing the militants and destroying their small boats.
But even though Boko Haram did not occupy the Chadian village, its fighters were merciless in the destruction they sowed while retreating.
Even 67 sheep kept near Isenik's home were burned to death. They were among 400 farm animals killed. Two hundred motorcycles were also destroyed.
The village chief, a soldier and several civilians were killed that night, but there was so much chaos that their bodies were not found immediately.
The attack -- Boko Haram's first on Chadian territory -- marked an important escalation in the militants' bloody six-year campaign to establish a hardline Islamic caliphate in northeast Nigeria, which borders Cameroon, Chad and Niger.
- Skyrocketing prices -
The Chadian army has since deployed reinforcements around the village.
"Security has returned, but people are still scared," said a member of the security forces armed with an assault rifle and a grenade attached to his belt.
Located just 18 kilometres (11 miles) from the Nigerian border, the Ngouboua peninsula remains vulnerable, and difficult access would make it hard to quickly send new troops in by land in the event of new raids.
Boko Haram has rarely attacked Chad's islands, but a new ambush on April 3 in a village near Ngouboua left seven dead.
Many fearful residents who fled inland in February have not yet returned home. Some do come back to Ngouboua to collect their sorghum crops by day, but then leave the village and spend the night in the bush.
Seated on a mat in his tiny textile shop, Ngouboua's chief tradesman Al Hadji Mboudou Mai is desperate.
"Forty-eight shops full of goods were destroyed. People lost everything, and they don't even have the means to rebuild their homes," he said.
Nearly two months after Boko Haram's attack, the market has only just begun to come back to life.
Onions, spices, tomatoes and okra plants are back on sale in wooden stalls under the blazing sun, as temperatures skyrocket to 45 degrees Celsius (113 Farenheit).
Boko Haram-linked insecurity on the lake has also had another effect on life in Ngouboua: prices have shot up because goods can now only be brought in by road, via Niger.
"Food, clothes, soap: everything is coming from Nigeria, even currency," sighed Mai, who said there was only one way forward for his people.
"Business must resume. Boko Haram must be wiped out," he said.