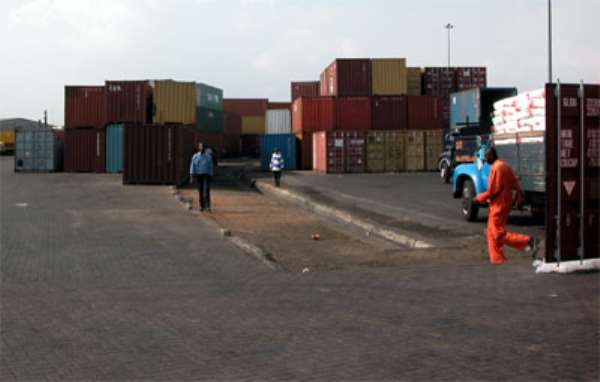 Four 40-footer containers which were documented to be carrying used clothing have been impounded in Tema for loading about 14 luxurious vehicles from Montreal, Canada.
The vehicles, whose models include Toyota Rav 4,Infinite and Cherokee, were deliberately marked as used clothing ,apparently to evade tax, which runs into several millions of cedis.
The consignees, according to the manifest covering the vehicles, were Stepin Ventures, Accra North, Nyarkosko Enterprise and Seli Traders, both in Kumasi. Each container, which was documented as carrying 400 bales of used clothing, had not more than two bales. Other items hidden in the containers were beds and wheelchairs.
The deal was exposed when the Minister of Ports, Harbours and Railways, Professor Christopher Ameyaw-Akumfi, acting upon a tip-off, paid a surprise visit to the premises of Maersk Shipping Company in Tema to ascertain the truth of the matter.Stunned by what he saw, the minister directed the Customs, Excise and Preventive Service (CEPS) to quickly impound the containers for investigations to begin.
"I want a daily report on whatever investigations are conducted to find the faces behind this act," he stressed.
There was the urgent need for custom officials to be extra vigilant to ensure that such deals stopped forthwith because they denied the state its needed revenue, Professor Ameyaw-Akumfi said.
The minister expressed gratitude to the MP for Tema West, Mr Abraham Osei Aidoo, for informing him about the deal. Some officials of Maersk present at the inspection denied knowledge of the actual contents of the containers, apart from what had been inscribed on the manifest.
"The manifest indicates that the contents are used clothing and until they are opened, we cannot confirm or deny what has been documented," one of the officials said. He claimed that the yard of the company was meant to receive the containers only for the customs officials to inspect the goods before they were cleared.
However, some agents who witnessed the inspection told the Graphic that that was not the first time such a thing had happened.They said if the minister had not gone to inspect the containers, it was most likely that the owners would have paid their way through to evade tax.
There were also speculations from other quarters that such vehicles were normally stolen from their country of origin and shipped into the country for sale to unsuspecting buyers.Attempts to reach the consignees through the phone numbers provided on the manifest proved futile, since those who responded to the calls denied knowledge of the companies mentioned.