US Ambassador lauds Ghana's democratic credentials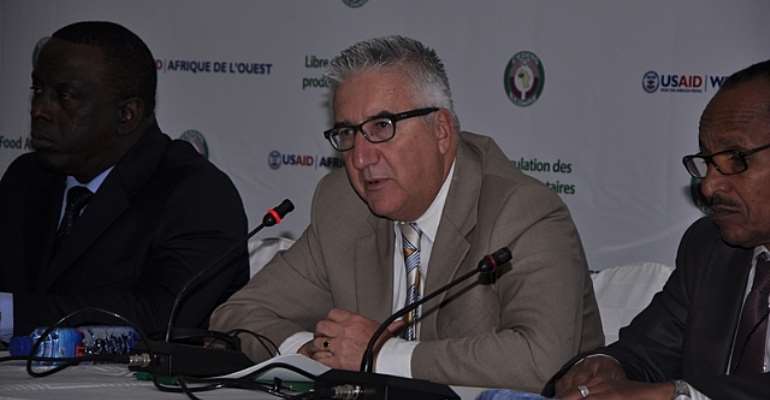 US Ambassador Gene, A.Cretz addressing the conference in Accra
Fiapre, April 1, GNA - Mr. Gene A. Cretz, the United States of America (USA) Ambassador to Ghana has commended the country for its enviable democratic credentials.
He observed that the country since 1992 had had multiple and peaceful change of government, saying that it was a generally good record of human rights.
Mr. Cretz made the recommendation during an interaction with the staff and students of the University of Energy and Natural Resources (UENR) at Fiapre in the Sunyani West District of Brong-Ahafo Region.
The interaction was part of the Abassador's two-day working visit to the Brong-Ahafo Region during which he visited Kwadwokrom, a cocoa farming community in the Asutifi North District to interact with the cocoa farmers.
He said USA encouraged and supported an inclusive dialogue on democratic governance and therefore appreciated Ghana's regional leadership in sharing its proven model of democracy with other countries.
Mr. Cretz stated that USA and Ghana had enjoyed a lasting friendship since Ghana's independence in 1957 and lauded the resultant collaborative work done with Ghanaian institutions.
He cited the numerous operations of the United States Agency for International Development (USAID), the Peace Corps and 15 other US government agencies that worked at the Embassy in Accra.
Mr. Cretz said the Embassy's top priorities included supporting stable and peaceful democracy and promoting trade between the two nations.
The Ambassador urged the government to work in concert with the private sector to generate the needed investment for the country to achieve its growth potential to strengthen the economic partnership between the US and Ghana.
He expressed concern about the current erratic electricity supply situation in the country that had created dire economic consequences for both employers and employees.
Mr. Cretz noted that the power situation had been a key constraint to Ghana's economic growth, and hoped that the $498 million second Millennium Challenge Compact would help alleviate the country's power crisis.
He urged the students studying courses such as science, technology, engineering and mathematics to work hard to be able to contribute to Ghana's development.
Mr. Cretz explained the launch of the Washington Fellowships for Young African Leaders program by President Barrack Obama, which aims at empowering young African leaders through academic coursework, leadership training, mentoring, networking, and follow-on support.
The program is open to people between 25 and 35 years old with several years of professional experience and a proven record of accomplishment in leading and promoting change.
GNA