NPP is not serious and united for power - polling station executives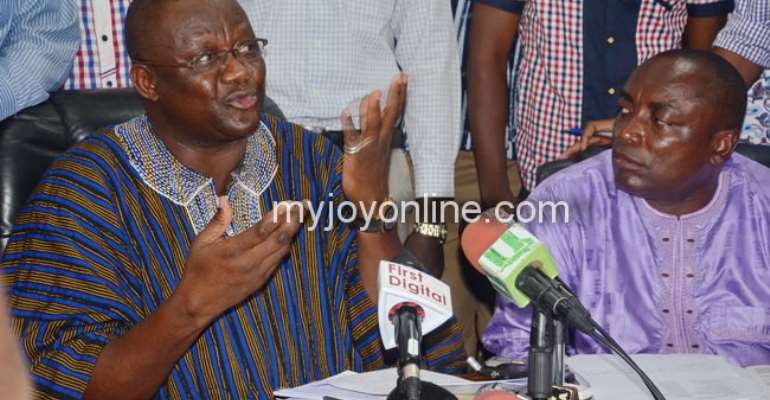 A group calling itself Concerned Polling Station Executives and Worried NPP Youth, says although the party is going into the 2016 elections with a formidable government, NPP has not shown that it is serious and hungry for power.
The group has in a statement signed by eight of its members led by former KNUST TESCON president Chris Arthur, condemned the mass resignation of party executives to vie for parliamentary seats, and called on National Executives to ban all these executives from contesting
"The National Executive Council must save the soul of the party by banning all elected party executives from contesting in parliamentary primaries," it stated.
The statement said in the Ashanti region alone, about 20 persons have resigned their positions to contest the parliamentary primaries neglecting party structures to crumble.
According to the group, it is wrong for the executives to resign barely a year after being elected into those positions, at a crucial moment the party requires their services the most.
"Is it because parliamentary positions come with lucrative and rewarding monetary conditions compared to party positions that come with virtually no monetary rewards? Could it also be asserted that, these people are nothing but political demagogues who will simply contest for any available position?" the group questioned.
The group was of the firm conviction that the 2012 general elections were lost partly because persons like Mr. Anthony Karbo, national youth organizer, resigned few months to the elections. "[Because of his action] the youth front of the party became leaderless as it could not even organize or train effective polling station agents for the elections. It led to the party being represented by half-baked polling station agents some of whom lacked basic writing and arithmetic skills."
It further stated, "Today, the party stands to suffer the same fate as hundreds of its constituency and regional executives are resigning from party positions in pursuit of parliamentary ambitions…Why must people who claim to love the party and sworn into office to serve the party for four years suddenly abandon their duty when the party needs them most?"
"Today, we call on the National Executive Council to consider placing a ban on all constituencies, regional and national executives from contesting in the upcoming parliamentary primaries. As unconstitutional and unpopular our call may be, we beseech the National Executives Council to take this right decision. The party has negatively been affected by the decision of elected constituency and regional executives resigning to contest parliamentary primaries and abandoning their party responsibilities in the process. We have had enough of unnecessary internal party squabbles and tensions," the statement said.
The group also questioned: "Where lies the future of the party should all national elected executives tender their resignation in pursuit of parliamentary ambitions? Who will run the party at the national, regional and constituency level should all executives be allowed to resign? Where lies the strength of the party if it's very foundation, the constituencies are left divided and leaderless due to the mass resignation of elected executives in pursuit of parliamentary ambitions?"
Story by Ghana | Myjoyonline.com| Isaac Essel | [email protected] | twitter @isaacessel