Hold on to shares - HFC MD urges shareholders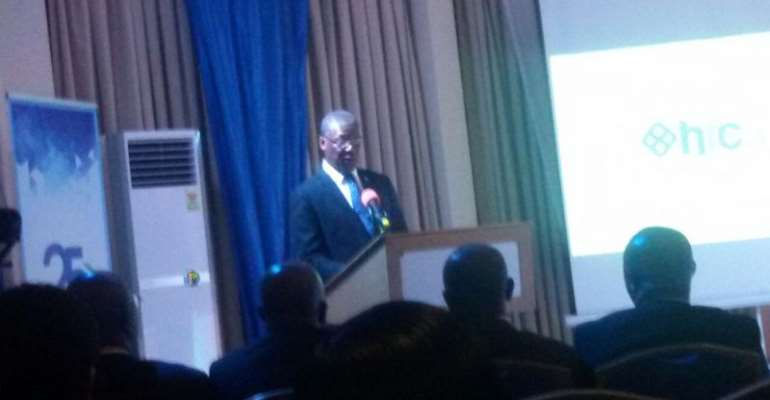 Accra, March 26, GNA - Dr. Asare Akuffo, Managing Director of HFC Bank Limited, has urged shareholders of the Bank to hold on to their shares, as HFC had reached a point in its journey where income and thus dividends would increase exponentially.
Speaking to journalists at the launch of HFC's 25th Anniversary celebrations, Dr. Akuffo said HFC had reached a point of high growth and profitability, and encouraged shareholders, especially public and private institutional shareholders, to hold on, since it was their hard work which had brought the company this far, saying 'this is not the time to sell,' but to 'commit to the future of the Bank', which is very bright.'
'From now onwards, it will be easy to make money, profits will flow in exponentially as can be seen in our 2013 and 2014 results which were very good. This is what other investors have seen and are anxious for a piece of the HFC cake thus if you already have it, hold on to it' he said.
He explained that although there is a mandatory transfer order in progress (MTO), it did not necessarily mean that the bank would go into foreign hands, adding this will be the case only if its investors, especially institutional ones like SSNIT, SIC, COCOBOD, and others decide to sell their shares but noted that it did not expect these institutions to sell as HFC had done significant in cocoa growing areas, in mortgage financing and other areas which these institutions should consider.
'It is for our Ghanaian investors to decide if HFC is an institution they want to own or hand over' he stated.
Mr. Asare Akuffo noted the bank had come a long way since it was established in 1990 as Home Finance Company, and had over the years identified certain traits which it believed would help to build more strong, vibrant and profitable local institutions, to serve Ghana and create wealth for Ghana outside the country.
He noted that one of these traits was that although the company was set up with some amount of government support; as a Public-Private Partnership with the World Bank, government had had the good sense to establish a private company, put in its money and get Social Security and National Insurance Trust (SSNIT) to also invest in it for the long-term and then had got the Merchant Bank to manage it.
The bank, he said, had also ensured that there was competent committed management in place to run the company. 'Commitment was so high and the objective was to grow the institution to achieve the set objectives. There was no self-seeking; it was all about building a great institution,' he stated, adding   that the management as far back as 1990 knew that eventually HFC, which was a finance company, will become a universal banking institution because there was a vision and a plan for the company.
He noted that HFC was proudly a Ghanaian institution, with close to 3,000 individual Ghanaian investors, since it listed on the Ghana Stock Exchange in 1995, who, as well Ghanaian institutional investors such as SSNIT, COCOBOD and SIC .
'Today HFC is a proud Ghanaian institution, an institution that Ghanaians should be proud of, which has been built through the ideas of their government and institutions and it is our hope that this pride would enable the bank to retain significant Ghanaian holding' he said.
Mrs. Muriel Susan Edusei, Board Chair of the HFC Bank, who launched the anniversary, said the HFC bank was initially established to operate as a secondary finance institution, initially owned by the Bank of Ghana, Securities and Exchange Commission and the Merchant Bank, now UMB, to establish a sustainable housing finance scheme.
She said the bank currently was arguably the most diversified bank in Ghana, providing a wide range of universal banking services, including mortgage banking, commercial banking, investment banking, brokerage services, fund management, real estate, and micro-finance services, having also helped to establish mortgage finance companies in the Gambia and Sierra Leone.
The bank also outdoored a 25th anniversary logo and an anniversary cloth in its corporate colours of blue and white.
'HFC has made strides in business growth and we are ready to take advantage of the new opportunities in the market and continue our strong growth. The bank has over the years developed a culture of integrity and the board and management has exhibited integrity in all its dealings' she noted, and thanked all old and existing staff of the company for their contributions towards the success of the bank.
GNA