South Sudan's hungry see little hope for peace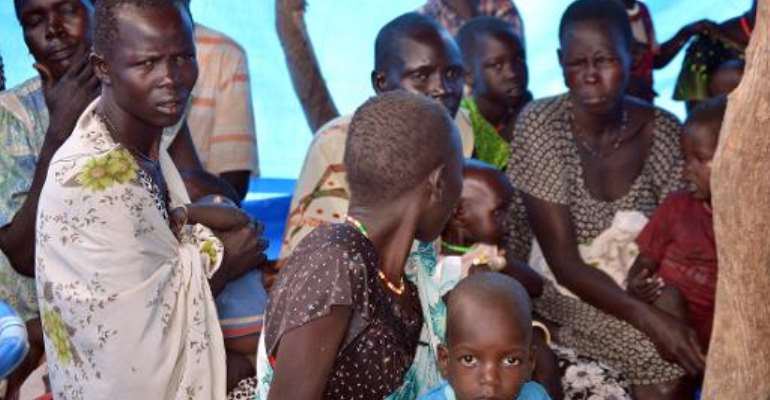 Ganyiel (South Sudan) (AFP) - Tepisha Nyakwach, aged 33 and a mother of five, has an idea on how to end South Sudan's seemingly intractable civil war: let the country's two main rivals fight it out one-on-one.
Although wishful thinking, her idea does reflect a sentiment among many citizens that they are the ones paying the price of a personal feud. They have also given up hope of seeing diplomacy yield a peace deal.
"If these two leaders are not going to bring peace to South Sudan, why not have the two of them fight each other with their own hands or guns, so they don't use our husbands or children?" said Nyakwach, waiting for United Nations food handouts that keep her from slipping into malnutrition.
For nearly a year and a half, Nyakwach has been displaced along with thousands of others in Panyijar County, an 80 mile (130 kilometre) walk from her shattered home in Unity State's capital of Bentiu, a strategic oil hub, has changed hands several times since the war began.
She is kept alive by foreign aid, which comes in the form of a 20 kilogramme (44 pound) bag of flour each month. With several mouths to feed, she says it only lasts two weeks.
"We only have half a life here in Ganyiel," she said. "What we need is peace."
Across South Sudan, frustration and anger is growing over the humanitarian toll from the 15-month-old feud between President Salva Kiir and Riek Machar, his former deputy and now the main rebel leader.
What began as a power struggle between the two heavyweights quickly boiled over into violence, leaving tens of thousands dead and two million displaced and dependent of food aid. Both sides are accused of war crimes, including kidnapping children to fight, gang rapes and massacres.
Peace talks brokered by South Sudan's neighbours broke down at the start of the month, with both sides making no secret of their intent to press on with a military solution.
- 'Lying about peace' -
Angelina Nyadiu, another mother displaced from Bentiu, said she felt like she was "just waiting for my day to die" -- languishing in a camp with 11 children in tow, of which five are from a missing relative, her husband also missing and a diet of bread and water.
"The children don't go to school. When they try to go to school, there are no teachers because they have no salary," she explained.
For the displaced in and around Ganyiel, life consists of waiting in flooded, makeshift shelters -- but reserves of food, and hope, are dwindling fast. The upbeat mood of 2011, when South Sudan became the world's youngest nation after a long and bitter independence struggle against Khartoum, appears to have evaporated altogether.
"I heard about the peace talks, but I realised they are playing and lying," Nyadiu said, giving an analysis that is shared, at least in private, by most diplomats close to the failed peace process.
The head of the UN's World Food Programme, the agency bringing in food to areas like Ganyiel, said the country was steadily going backwards. Although South Sudan's leaders have been threatened with sanctions for continuing the war, now have been imposed.
"It's not getting better. The challenge is that even people who had something when I was here the last time, they have depleted those assets and now they have even less or nothing," Ertharin Cousin said during a tour of the country.
"I have talked to women who have walked over 200 miles with six to seven children to find food," she said. "The longer the crisis goes on the more people suffer. What we need first and foremost of course is peace. We cannot allow the world to forget."