Director says teacher absenteeism must be checked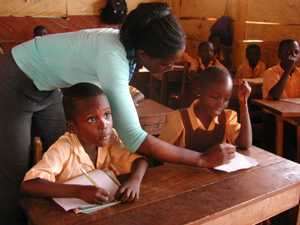 Accra, Feb 20, GNA - The Greater Accra Regional Director of Education, Mrs Elizabeth A. de-Souza, has appealed to the Regional Coordinating Council to set up a task force to check absenteeism by teachers at the basic level to improve education in the country.
Speaking at a meeting with Metropolitan, Municipal and District assemblies heads and District Chief Executives of the region to address some of the challenges facing the education sector, she said absenteeism by some teachers was having a negative effect on the pupils.
She said in as much as there had been support from the Education Ministry and the Regional Coordinating Council, there were some problems that needed to be tackled with urgency.
Mrs de-Souza said delay in the release of the capitation grant for running basic schools had made some head teachers to take advantage of the situation and are charging exorbitant levies from parents.
She said some teachers went as far as levying pupils' huge amounts for water, refuse collection, electricity and charging for Friday wear which is not right and called on the government to come out with the right fee to be paid by parents.
'Some schools go as far as charging pupils GHc70 for development levy while basic education per the Ghanaian educational Act is supposed to be free.' she said.
Mrs de-Souza said the government should make it clear as to the number of mock examinations to be written by pupils before writing their Basic Education Certificate Examination.
She said while people were looking at the junior high school sector, they should also focus on the foundation of these pupils since this foundation is what would groom them to be able to read and write when they get to the primary and the Junior High School level.
GNA EN-GB X-NONE X-NONE